Offshore mutton demand underpins prices despite high supply.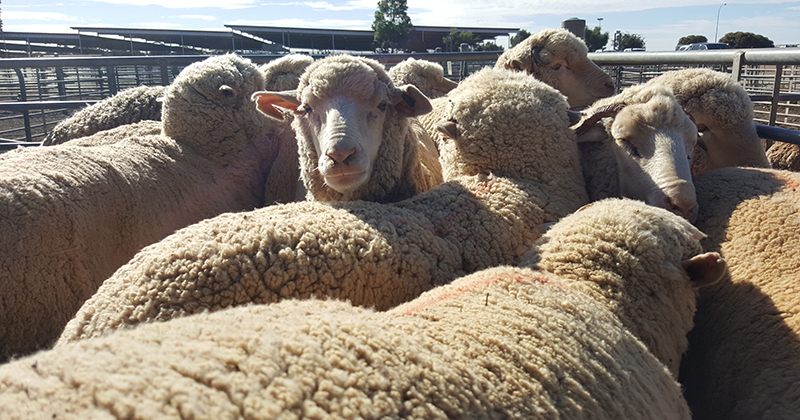 The Department of Agriculture and Water Resources (DAWR) mutton trade figures were released recently for October and showed that offshore consignments continue to run at levels significantly higher than previous seasons. The solid export demand has come at a beneficial time for producers given the higher than normal sheep turnoff experienced from July to November, providing a buffer for domestic mutton prices.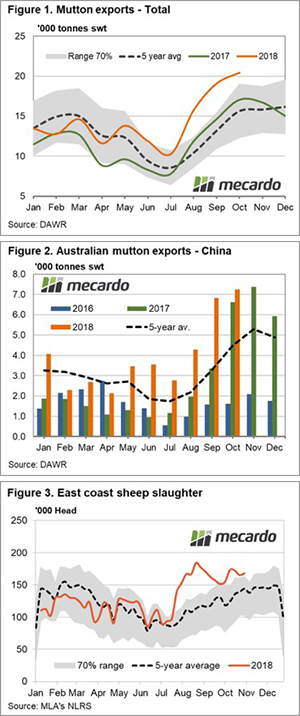 Monthly consignments of mutton exported offshore totalled 20,406 tonnes swt during October, an increase of 7% on the September figures. This places the October result as the highest monthly total on record (our monthly export data goes back to 2000) and is 19% more than we saw during October of 2017 and 31% more than the five-year seasonal average for October (Figure 1).
Fueling the growth in offshore demand for mutton during October has been increased flows to the USA and China. Indeed, since June, average monthly exports of Australian mutton to the USA have been 137% above the five-year average level and Chinese flows have been 82% higher (Figure 2).
During the June to October period, the combined USA and Chinese mutton shipments accounted for about 50% of the flow of mutton out of Australia, so growth in demand from these two destinations is significant.
Abnormally dry conditions this season have seen mutton slaughter running at elevated levels since the middle of the year as producers try to manage stock numbers. As shown in Figure 3, the weekly sheep slaughter levels reported by Meat and Livestock Australia (MLA) show the 2018 trend extending well beyond the upper boundary of the normal seasonal range.
What does it mean/next week?
Normally such an increase to the supply of sheep being turned off would be expected to act as a headwind on price. However, it appears the surging demand out of the USA and China has been a counterweight to the higher supply. Since the start of July 2018, mutton prices have been averaging 11.5% higher than during the 2017 season, despite having 43% higher weekly slaughter volumes than last year.
Key points:
The October mutton export volume was the highest monthly total recorded at 20,046 tonnes swt.
Since June, average monthly offshore demand for Australian mutton being sent to the USA and China has been well above the five-year seasonal average at 137% and 82%, respectively.
Approximately 50% of Australian mutton product exported has gone to the USA or China since June 2018.