Ovines succumb to Covid19 concern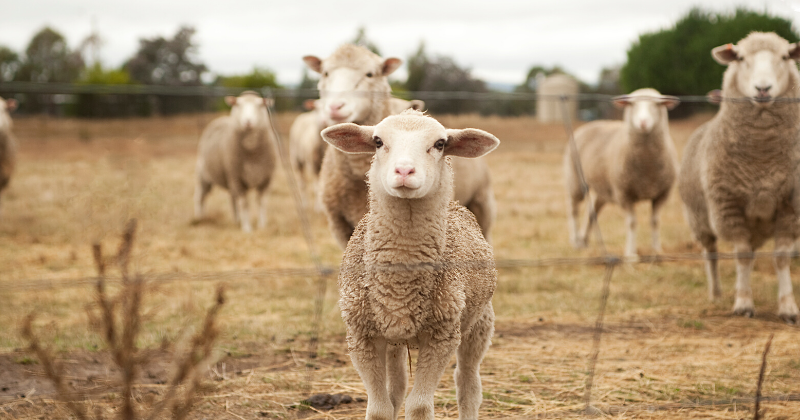 Early March saw an increase in throughput as sheep producers responded to record prices but in recent weeks levels have softened. No sign of processors looking to increase slaughter volumes though despite some anecdotal reports that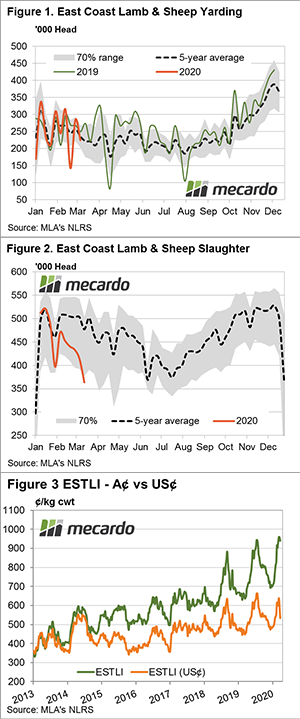 supermarkets are keen to restock after a run on red meat. With the A$ collapse and concern over a Covid19 economic growth hit the uncertainty has filtered through to sheep and lamb prices. 
Figure 1 highlights the pattern for combined lamb and sheep throughput across the east coast. After an increase in weekly yarding in the first week of March toward levels that were testing the upper boundary of the normal seasonal range nearer to 285,000 head per week, we have seen it settle back toward more average seasonal levels – Figure 1.
This week I heard of an anecdotal report that a large retailer was seeking an urgent 25% increase in processing of red meat so that supplies could be quickly replenished after a run on product from panic buying preppers. 
However, a look at combined sheep and lamb slaughter across the east coast shows that there has been no appetite from processors to engage too heavily in the current market with prices so firm. The sheep and lamb slaughter volumes extending to levels consistent with the depths of winter, running at 24% under the five-year trend for this time in the season at around 365,000 head per week.
Prices at east coast sale yards for all categories of lamb and sheep reported by MLA's NLRS service softened this week in response to jitters around the Covid19 spread. Mirroring the broader moves the Eastern States Trade Lamb Indicator (ESTLI) dipped 18¢ to close at 941¢/kg cwt and the National Mutton Indicator (NMI) shaved off 41¢ to finish at 668¢/kg cwt. 
Panic behavior we have seen at the supermarket spread to international currency markets this week with the A$ collapsing to an 18 year low near 55US¢. While this is unfortunate for those importing farm machinery or offshore inputs it provides a competitive boost for Australian sheep meat producers. Figure 3 highlights the ESTLI in both A$ and US$ terms with the sharp fall in the local currency allowing lamb prices in foreign buyer terms coming off 10% just this week.
What does it mean/next week?:
Given the depth of concern over the current global economic situation it's hard to see sale yard prices rallying too much in the short term. A look at the rainfall forecast for the next week isn't showing enough to encourage restockers too much further either so its likely we will see price pressure to continue in the next few weeks.