OYCI to EYCI spread narrows over August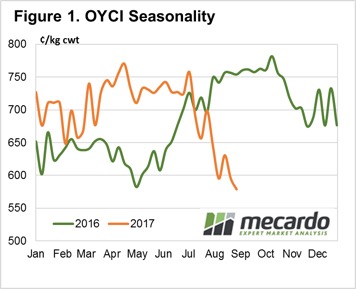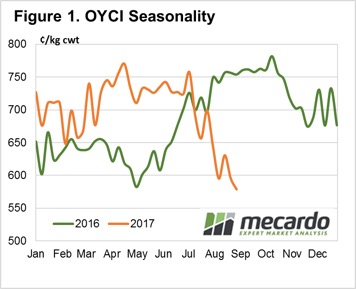 This weekly comment marks the first in our planned fortnightly Online Young Cattle Indicator (OYCI) updates as well as a general summary of the broader cattle market over the last week. Interestingly, the spread of the OYCI to the EYCI has narrowed over the month of August.
Figure 1 shows the seasonal OYCI pattern with the 10.2% decline over August bringing the indicator to 578.80 ¢/kg cwt as of the start of September. In contrast, the EYCI staged a decline of only 5.2% over the same period with the EYCI closing this week at 541.75¢/kg cwt. Since mid-August the spread of the weekly OYCI over the EYCI has narrowed from 14.9% to 5.6%, as at the start of September.
The EYCI staging only a mild, 2% decline on the week, as the 90CL beef export price continued to trek sideways staging a close of 557¢/kg CIF – figure 2. Young cattle in the West continuing it's bounce around between 550-600¢ with an 8% gain this week to 595¢/kg cwt.
A 42% surge noted in NSW cattle throughput over the week (figure 3) appearing to put some pressure on Trade Steers there with a 4% drop noted to 308¢/kg lwt, with the continued dry having an impact. Feeder and Heavy Steers in NSW also slightly weaker – down 1.2% (297¢/kg lwt) and 1.3% (274¢/kg lwt), respectively. Feeder Steers in QLD and Victoria also dragging the chain a bit, down 2.4% (298¢/kg lwt) and 4.2% (289¢/kg lwt) between them.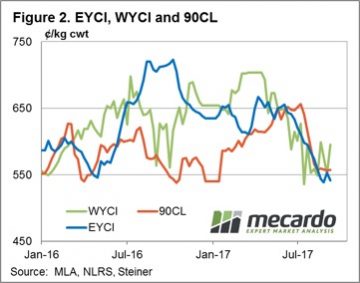 The week ahead
The rainfall forecast for the week ahead a bit of a mirror of the last month with moisture limited to the southern regions. Cattle prices are broadly anticipated to continue to consolidate at current levels with the chance for some gains noted in the South, while the drier Northern regions may still see some further slight declines.