Plan for the worst; hope for the best (in the west).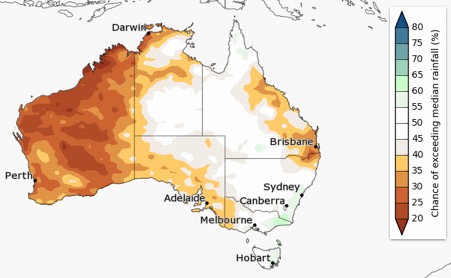 In this update I take a look at the most recent BOM three month climate outlook. What does it mean for the 2019/20 crop? In other news there could be some excitement on the market as the USDA start releasing data after a >1 month hiatus, and the Chinese-US negotiations comes to a head.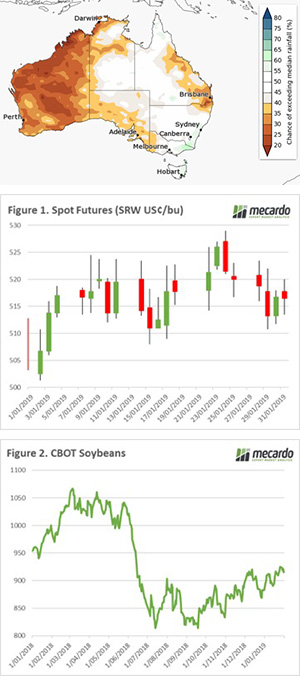 The bureau of meteorology has released its three month climate outlook. It doesn't look good for Queensland and the West. After a fantastic year where WA produced a 17.5mmt crop, pre season rainfall has a limited chance of exceeding the median. This will put a dampener on expectations for the coming season. However, I have a few thoughts when it comes to this projection:
1. Weather projections can be highly volatile, and this may not be realized.
Although subsoil moisture prior to planting is very welcome, it doesn't make the crop.
There are a range of factors that will determine the development of the 2019/20 crop, however on the 1st of February it is far to early to judge the end result. It is always best to 'plan for the worst, hope for the best'.
The futures market lost ground this week with spot futures back A$5 (figure 1). The market has remained subdued whilst awaiting fresh data releases by the USDA. I covered the lack of volatility and volume in late last week (see here) and on the reaction to USDA releases (see here). The release of new data after such a long hiatus could lead to increased levels of volatility, if there are any major surprises that private forecasters had not expected.
The big news to watch over the next week will be whether Trump and Xi can reach a middle ground to reduce the tensions between the two giants of trade. There looks to be some thawing of the relationship as China has agreed to purchase 5mmt of Soybeans. If you have been paying attention to my updates over the past year that soybeans have been at the centre of the trade tariffs which have resulted in US soybeans falling (and Brazilian sources rising).
As the two nations commenced negotiations the market has been quietly confident of a amicable solution being found. This has seen the market start to gain ground (figure 2), as the market opens with news of a 5mmt will we see a sharp upward trajectory?
What does it mean/next week?:
We could be in for a wild ride over the next week as the market reacts to the release of USDA data and US-China trade negotiations.