Price action suggests a rebound in supply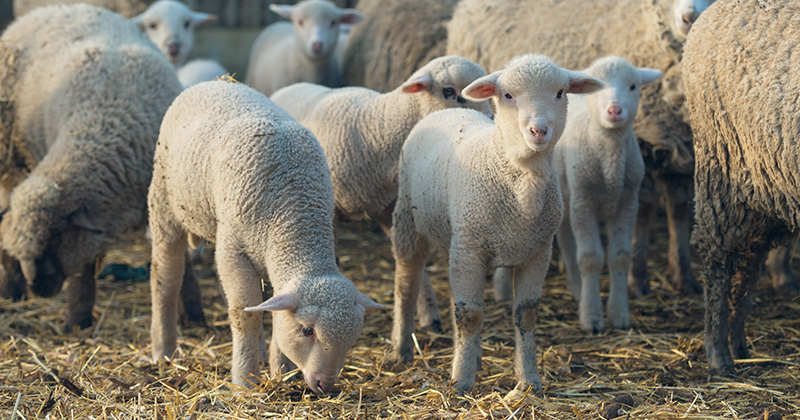 The dip in lamb and sheep supply after last weeks shortened selling program was evident in throughput levels reported to Friday 1st of February. Lamb and sheep prices have continued to ease this week, suggesting that saleyard volumes have rebounded.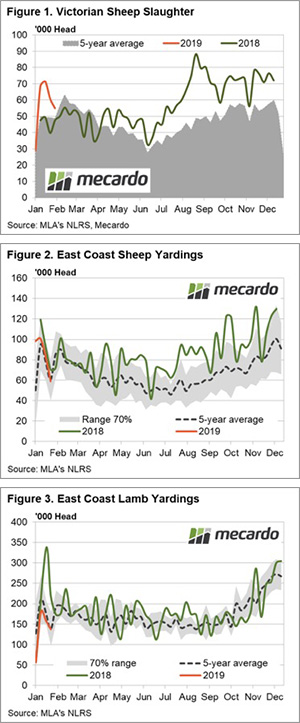 The Eastern States Trade Lamb Indicator (ESLTI) softened 4.6% this week to close at 633¢/kg cwt. East coast mutton was under pressure too, easing 7.6% to 368¢. Mutton prices across the Eastern seaboard have succumbed to elevated sheep slaughter volumes, with particularly high cull levels noted out of Victoria over the last month (Figure 1).
Victorian mutton slaughter has been running at weekly levels 24% higher than the five-year average since the start of 2019 and the increased volumes have continued to weigh on Victorian mutton prices with a 10¢ drop reported across Victorian saleyards according to the mid-week MLA market report. Victorian mutton is not the cheapest in the country though, at 378¢ it is still faring better than SA. SA mutton has dragged the chain, dropping 44¢ to 322¢ to make it the cheapest mutton in the nation.
East coast sheep yarding levels (as at Friday 1st February) are reflecting the shorter selling week with a 29% drop noted from the prior week's figures to see just shy of 59,000 head change hands. The 2019 pattern is closely mirroring the five-year seasonal average trend and if this is any indication of what to expect for sheep yarding figures when MLA report them next Wednesday, we could see sheep yardings rebound toward the 85,000 head level (Figure 2).
A similar yarding pattern is emerging for East coast lamb with the 2019 trend also mirroring the five-year average (Figure 3). Lamb throughput (as at 1st February) declined 13% from the previous week to see it a whisker away from the seasonal average at around 138,000 head. Assuming lamb follows the seasonal average, we can expect to see a jump toward 190,000 reported for this week. Indeed, the price action suggests that supply has rebounded.
What does it mean/next week?:
Monsoonal conditions in northern Queensland have spun off a bit of moisture into the bottom South East quarter of the nation this week and a little more is forecast to fall into the coming week. While it isn't enough to get lamb and sheep prices booming it's likely to put a floor under further easing in the coming weeks.