Prospect of rain brings mixed fortunes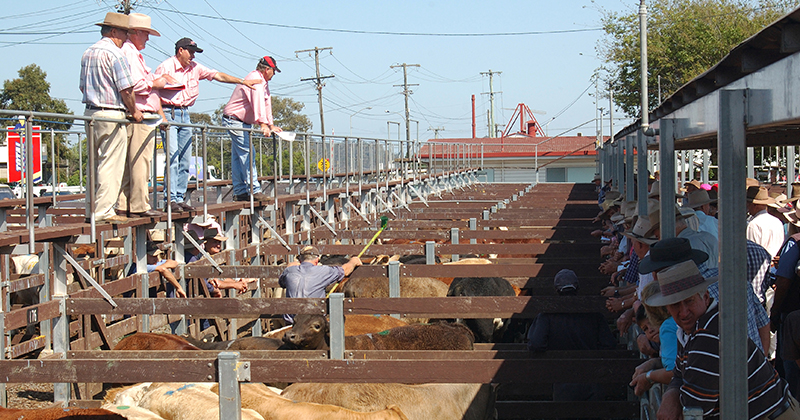 Cattle price movements across eastern states sale yards are a little mixed this week as throughput levels return to seasonal norms and the Bureau of Meteorology (BOM) release their mid-month climate forecast.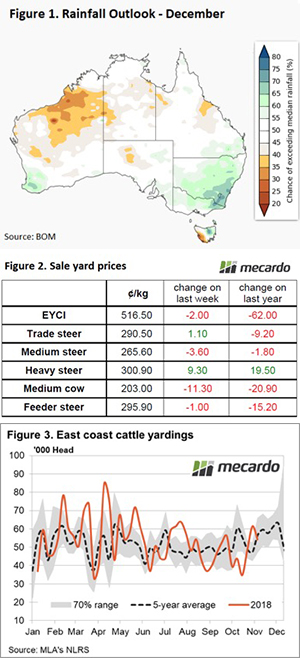 The rainfall outlook for December, released by the BOM yesterday, shows wetter than average conditions anticipated for east/central NSW, eastern Victoria and the southern coastal tip of WA – Figure 1. Additionally, for the first time in many months the remainder of the nation shows that a relatively normal rainfall pattern is expected for the coming month. Despite the improved December outlook, the El Nino watch remains on alert, which suggest around a 70% chance of it occurring into early 2019.
In sale yards across the Eastern seaboard price movements were mixed for the NLRS reported categories. Heavy Steers continue to outperform the herd on a week on week basis demonstrating a 3% lift to close back above 300¢/kg lwt. Eastern Heavy Steers are also the only category to continue to shine on a year on year basis with prices sitting 6.5% above this time last season – Figure 2.
Eastern Trade Steers are the only other cattle type to gain for the week with a small 1.1¢ lift. All other categories are marginally softer, posting falls between 1-3¢, except for Medium Cows that shed 5.5% on the week to close at 203¢/kg lwt.
The Eastern Young Cattle Indicator (EYCI) is holding its ground this week with only a 2¢ decline to close at 516.5¢/kg cwt. Across in the West, young cattle prices are also posting a marginal change, albeit in the opposite direction to the EYCI, with the WYCI recording a 1.75¢ lift to 563.75¢/kg cwt.
After last week's slightly elevated cattle yarding levels the throughput on the east coast reverted towards the seasonal five-year average levels with a 12% drop week on week to see the throughput for this week sit at just over 54,000 head – Figure 3.
What does it mean/next week?:
The rainfall forecast for next week, 10-50mm falls are expected for the south eastern quadrant of the country. Eastern Victoria should get the best of the rain, but reasonable falls are anticipated to extend into much of the Eastern half of NSW.
The rain for the coming week and the prospect for a wetter December should provide some support for cattle prices in the next week or two, particularly for finished stock.