Rain helps support Victoria and WA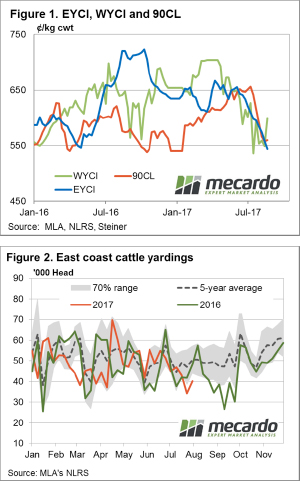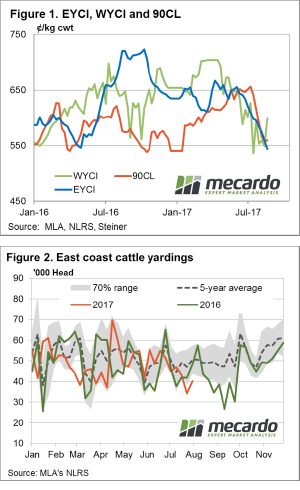 National Trade Steers holding up reasonably well this week, supported by price lifts in Queensland, as most other categories of cattle take the lead of the Eastern Young Cattle Indicator (EYCI) and continue to probe lower. Although, prices out West and in Victoria buck the trend as continued rain provides a bit of support.
Figure 1 highlights the 9.2% lift in the Western Young Cattle Indicator (WYCI), a solid recovery but not as strong as WA cows, with Heavy Cows up 12.7% to 188¢/kg lwt and Pastoral Cows posting a 26% increase to 110¢/kg lwt. In contrast, the EYCI continued its slide to shed 2.6% on the week to close at 543.5¢/kg cwt, while the 90CL frozen cow was largely unchanged at 559¢/kg CIF. National saleyard indicators all softer, with the exception of Trade Steers, posting a 1.1% gain to 568¢/kg cwt. The biggest falls in the national market reserved for Medium Cow and Heavy Steers, off 5.3% (393¢/kg cwt) and 4.6% (497¢/kg cwt), respectively.
A 17% lift in East Coast cattle yardings noted, although it must be noted coming off a fairly low base from last week, to see just over 40,000 head change hands – figure 2. Comparing the weekly cattle throughput figures on a state by state basis showing relatively higher yarding levels in Queensland persist, with figures here just 8% below the five-year average levels for this time of the season. In contrast, compared to their respective five-year average levels, NSW throughput is 20% under, Victorian yarding sits 36% below and SA is 40% below.
The week ahead
The rainfall distribution we have seen over the last few weeks continues again for the week ahead, with much of NSW and all of Queensland missing out, while Victoria and parts of WA continue to get a soaking. National cattle price movement likely to remain in a consolidation phase as softer prices in drier areas are offset by firmer prices for those regions enjoying some rainfall. The stabilisation of the 90CL in the last few weeks also likely to lend some support to the EYCI in the short term.