Rain soaks up supply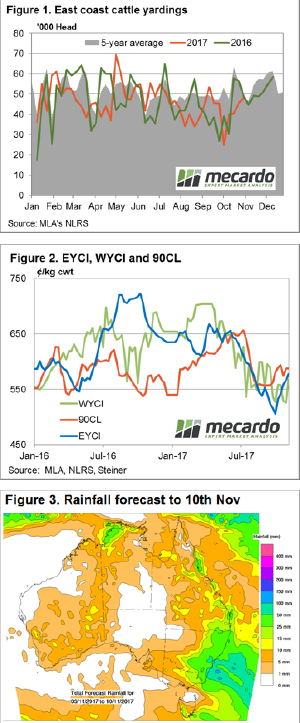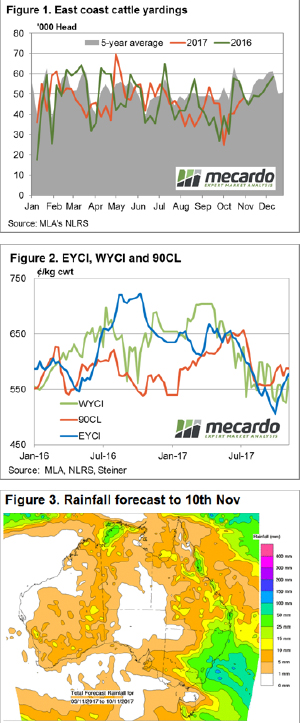 Most of the eastern states received rainfall this week and despite higher throughput young cattle prices continued to climb, with the benchmark Eastern Young Cattle Indicator (EYCI) closing up 1.8% to see it at 577.50¢/kg cwt this week.
The improved young cattle prices in addition to a 5.3% lift in cattle throughput along the East coast saw this week's yarding figures back near longer term average levels at around the 48,000 head region – figure 1.
This is the highest weekly yarding figure reported in nearly two months which suggests demand is managing to keep up with the extra saleyard volumes. Indeed, since the start of October weekly East coast cattle yardings have lifted 93% and over the same time the EYCI has managed to gain around 8% – it's amazing what a bit of rain can do.
The price jump not just limited to East coast young cattle with the WYCI lifting 7.9% on the week to see it reach 568¢/kg cwt. Eastern and Western young cattle prices beginning to converge toward the key beef export indicator with the 90CL frozen cow holding ground over the last month between 575-595¢kg CIF and currently sitting at 587.4¢ – figure 2.
The week ahead
The rainfall forecast for next week shows falls of up to 50mm across much of Eastern NSW, with lighter sprinklings across the rest of the Eastern and Western seaboard – figure 3. Anecdotal reports out of the US suggest the 90CL could see some further gains in the coming few weeks as competition between domestic demand on the back of Thanksgiving celebrations, and increased offshore buying (particularly out of Asia) make an impact.
The prospect of continued rainfall and a solid 90CL export price should continue to provide further support to cattle prices locally over the next few weeks.