Restocker demand down but a base might have been found.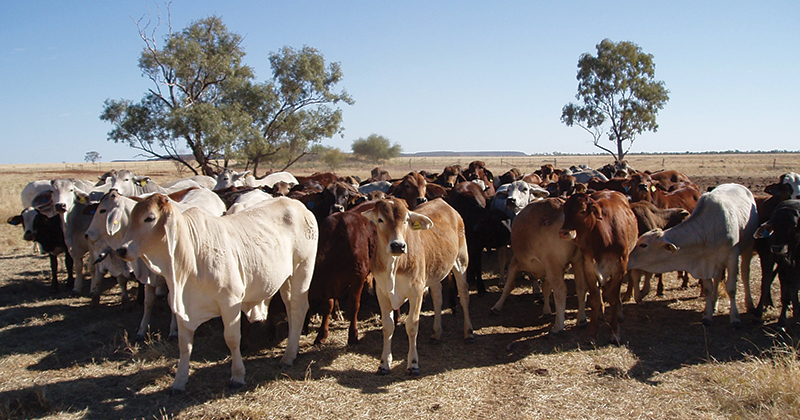 With drought conditions in much of New South Wales and parts of Queensland, it has been interesting to see the Eastern Young Cattle Indicator (EYCI) find somewhat of a base in the last couple of weeks. With further dry weather forecast, we attempt to ascertain whether this is a support that'll track along for a while, or whether it'll take another leg lower.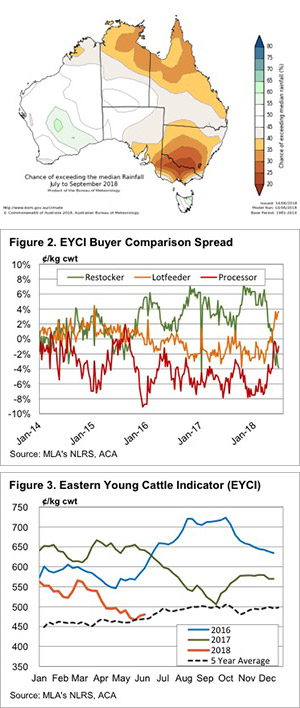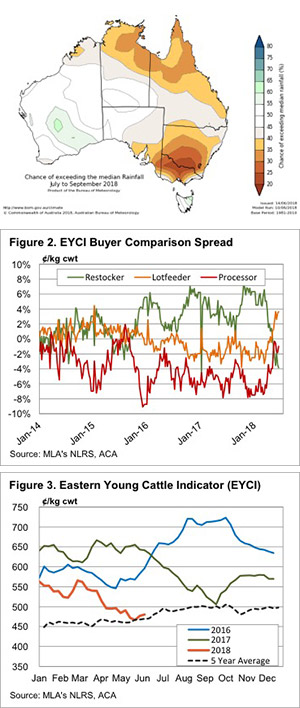 It was only a fortnight ago the Bureau of Meteorology (BOM) released a depressing looking three-month rainfall outlook formuch of the east coast. If you thought it couldn't get any worse, think again, with the mid-month update released last Thursday trumping the previous one for depressing brown areas. Figure 1 shows most of NSW and Victoria have a low chance of exceeding median rainfall from July to September.
The latest three-month outlook comes just as the EYCI is starting to find a base. Having fallen consistently for two months, the EYCI hit 466¢/kg cwt a fortnight ago and has since rallied 14¢ to 488¢. It's worth noting that prices remain very good considering the conditions. The last time we had a dry spell like this, the EYCI was much closer to 300¢ than 500¢.
Figure 2 shows weakening restocker demand has been assisting the EYCI lower. Restockers have gone from paying a 6% premium to the EYCI itself to a 4% discount. The restocker spread has never been this low for very long. During the height of the 2013-14 drought, restockers were getting their cattle for a 2% discount.
Part of the reason the restocker discount is larger than in 2013-14 is that lotfeeders are still paying strong prices. In EYCI saleyards, lotfeeders are paying a 3.5% premium to the EYCI despite grain prices at close to 10-year highs. This tells us that there are some good prices for finished cattle being offered down the track.
While it's a little counter-intuitive, the dry weather looks to be raising serious concerns around the late winter and spring finished cattle supply. Additionally, the herd rebuild didn't gain enough momentum to see processors swamped with unfinished cattle and cows. The supply and demand of slaughter cattle looks to have found an equilibrium of sorts.
What does it mean/next week?:
We know it will take rain for the EYCI to move higher, but based on export prices and supply it looks like prices might have found a base for now, and will track sideways for a while. If the winter and early spring remain exceptionally dry, supply could increase and push price lower, but for now, it looks like things might hold, with the five-year average (Figure 3) seemingly the most obvious path.
Key Points
The latest BOM forecast has pegged the probability of better than median rainfall is low.
Historically restocker demand hasn't been weaker, processor and feeder demand is still strong.
Despite the dry forecast, young cattle prices might find support at current levels.