Retail beef has found a peak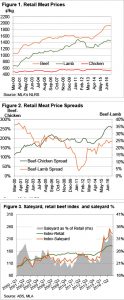 It doesn't matter how tight cattle supply is, beef still lies on a demand curve, where consumers will eat less beef as prices rise. While Australian beef prices are largely governed by export markets, the domestic consumer is still our largest single market for beef. This week we take a look at the latest retail meat values, and what this might mean for cattle prices.
The Australian Bureau of Statistics (ABS) recently released their retail meat price indices, which Meat and Livestock Australia (MLA) convert to average retail values for the quarter. Figure 1 shows the latest retail meat prices, which shows beef and lamb prices easing marginally.
Retail beef prices peaked in the December quarter, hitting 1939¢/kg retail weight, but eased 1% in the March quarter, to sit at 1920¢ (figure 1). Compared to its major substitute, lamb, beef remains at a strong, but not unusual premium. For the last 18 months beef has ranged between a 22 and 25% premium to lamb at a retail level, which is the highest level in 9 years.
There is precedent for beef to move to a stronger premium to lamb, which has been as high as 38% back in 2000. Similarly, we have recently seen beef at just a 4% premium to lamb, back in 2011 when lamb prices has a serious rally.
Retail chicken prices gained 1% in the March quarter, but remains exceptionally cheap compared to beef, and to a less extent lamb. In the September 16 quarter, beef was at a 265% premium to chicken, and this has eased marginally to 257% in the March quarter. Chicken continues to take market share from the more expensive meats, but it's promising to see retail beef prices managing to maintain high premiums.
Figure 3 shows that easing saleyard prices in the March quarter might have helped retail prices ease a little. However, looking at indices of the retail and saleyard prices, we can see that saleyard prices remain expensive relative to retail values over the long term.
Key points:
Retail beef prices eased marginally in the March quarter, but remain historically high relative to other meats.
Saleyard cattle prices have fallen further than retail values, which may provide a little support.
There is still a lot of room for saleyard price to fall without retail values moving, so there may not be much relief for consumers.
What does this mean?
Beef prices remain expensive relative to other meats at a retail level. Cattle prices remain expensive relative to retail values. This means cattle prices have plenty of room to fall. If saleyard price move back to 25% of the retail price, it puts the trade steer indicator at 480¢/kg cwt.
It seems unlikely retail beef prices will fall in a hurry. Even during the very cheap cattle prices of 2012-13 beef prices only edged lower, so hopefully, for producers, the 450-500¢ level might be the bottom of the range of beef prices over the coming years. Consumers are not likely to get much relief at the checkout however, and export markets will have to soak up any extra supply that comes through.
Other comments:
Include here any additional information or specific comments to ensure successful upload by the web manager