Rising lamb slaughter pulling supply forward.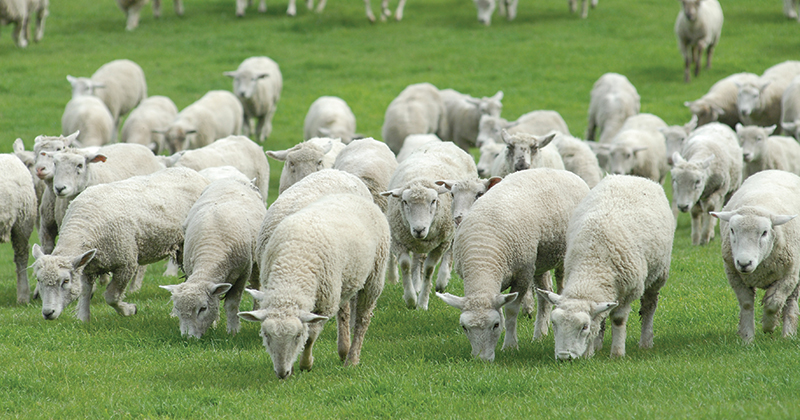 It has been two months since we've had a look at short term slaughter forecasts.  Recent heavy lamb and sheep slaughter rates brings us back to look at the theory that killing more stock now means fewer for later.  But how many fewer, and what will it do to price?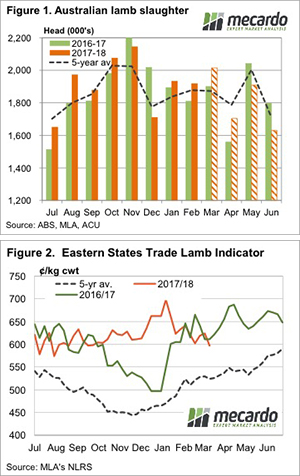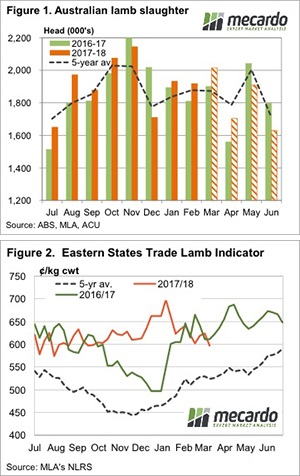 Regular readers will know that forecasting supply is a difficult task, but forecasting lambs supply is a bit easier than sheep. While the total years lamb supply is relatively finite, it can be increased by dry seasons as more ewe lambs, and merino wethers are slaughtered.
Sheep are a different story, with slaughter rates highly dependent on weather.  In the last five years we've seen swings lower to 18% in 2016, followed by an 8% rise in 2017.
Recent dry weather in key lamb producing areas has seen slaughter rates running stronger at the start of 2018. Figure 1 shows January slaughter was up 2% on last year's levels, and February up 6% based on estimates from MLA's weekly slaughter data. For the week and a half of March so far, slaughter is up 10%.  We made an assumption that this will continue.
The strong early 2018 slaughter somewhat made up for the very low levels seen in December, and financial year to February sitting 235,000 head, or 1.6% above the same time last year.  In the scheme of things, lamb slaughter is running pretty close.
The first two weeks of March have seen the higher slaughter levels continue, and the deficit in future supply increase. Assuming MLA's slaughter slightly higher forecast of 22.5 million head is correct, we have forecast lambs supply for the last three months of the financial year.
April slaughter comes in 8% above last year, May 8% lower and June 11% lower. The total lamb slaughter for the April to June period will be 4% lower if slaughter is to meet the 22.5 million head mark.
Obviously the timing of the autumn break in the south will have a lot of bearing on lamb supply over the coming three months. A late break would be likely to see slaughter around last year levels, maybe higher, while a break towards the end of March could see significantly tighter supply in from April to June.
What does it mean/next week?:
With the heavy slaughter rates of recent weeks it's easy to see why the Eastern States Trade Lamb Indicator (ESTLI) is tracking under last year's levels. In fact, it's a bit surprising it's as strong as it is.  Demand obviously remains strong, as processors wouldn't be killing this many if there wasn't money in it.
Going forward, concern should be mounting about late autumn and winter supply.  There were fewer lambs killed in November and December, but the extras are now all gone, and any move towards flock rebuild, with a reasonable autumn break, could see us back above last year's levels (figure 2) and heading towards 700¢.
Key Points
East coast lambs slaughter has been higher than last year so far in 2018.
Stronger slaughter has more than made up for lower kills in November and December.
With more lambs exiting the system, supplies could be short after the autumn break.