Roll up, roll up for the wheat rollercoaster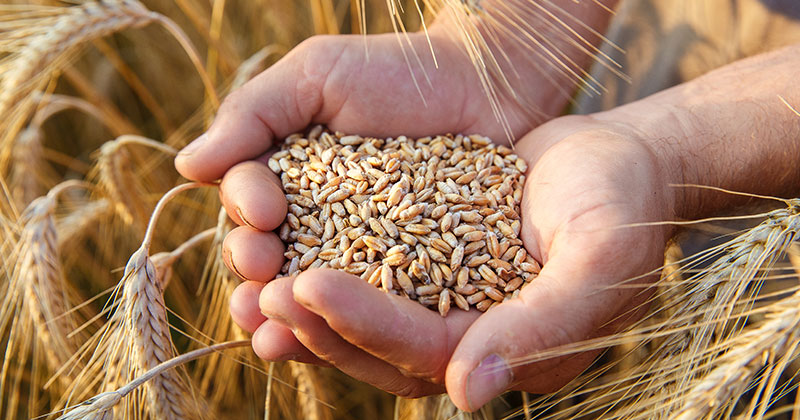 Up, down, side to side. The rollercoaster of the grain market continues to provide excitement. As harvest advances pricing levels have risen. In this week's update we take a look at ASX pricing, WA forecasts, Trump deals, and UK elections.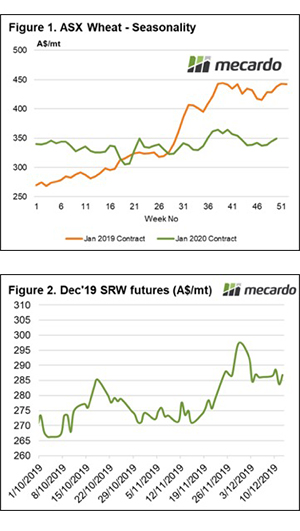 The ASX contract has risen dramatically during the past week, at the end of last week the December 2020 was trading at a weekly average of A$344 and has now moved up to A$349 (figure 1). There are concerns from feed consumers related to the slow pace of harvest in Victoria, which is driven both physical and futures levels higher.
The ASX swaps offered by banks are expiring during the next week, and we can clearly see that there are contracts being rolled from the January contract to May. This allows consumers to maintain cover for this season without having to convert to physical.
The Grain Industry Association of Western Australia released its updated crop forecasts. After a strong crop last year the crop has disappointed this season. The production estimates and month on month change are shown below:
Wheat 5.4mmt (-8%)
Barley 3.9mmt (+5.3%)
Canola 1.1mmt (+13.5%)
Oats 400kmt (-13.2%)
The GIWA results in the past have been generally quite accurate, however, after discussing with contacts in the west, these numbers have room for further downward revisions.
On an international level, we have seen US futures trading downward for most of this week, but we have seen a large rise overnight. This has been driven by comments from Trump related to positive trade talks with China.
It's a bit like groundhog day now, where China and US get close to a resolution only for a last-minute pull back. At present, a limited agreement is on the cards which will prevent the new tariffs due to be implemented on Sunday.
This has driven the markets higher as the prospect of trade flows returning to normal. I believe that it will be a while until trade with China is back to normal and that these negotiations will likely continue for some time.
The UK went to the polls yesterday for the 3rd time in the past five years. The election has been one of the most contentious in recent years due to Brexit, with one side calling for further referendums and the other to get the deal done. The previous parliament was unable to reach agreements on the Brexit package after numerous votes, resulting in the current election.
As the voting booths close the exit polls are predicting a very strong conservative majority. If this eventuates, we will see a strong rally in the GBP.
Remember to listen to the  Commodity Conversation podcast by Mecardo
What does it mean? – Next week:
Feed demand remains strong at present with buyers looking to fulfill uncovered feeding requirements. This has provided a beneficial jump in values for producers. Whether this continues when grower selling increases is yet to be determined.