Sellers line up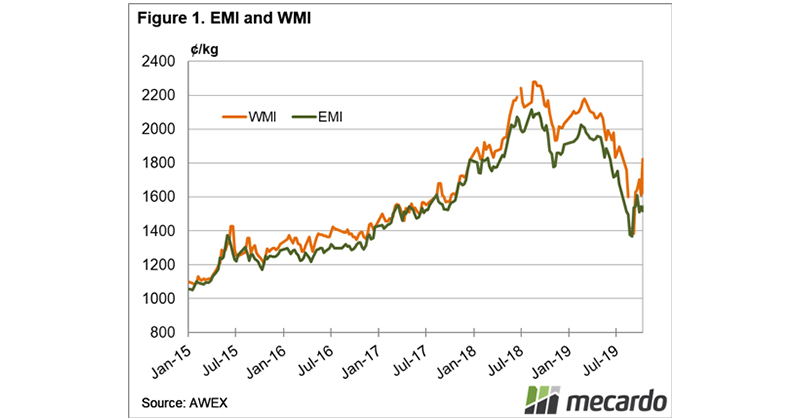 It is an unusual situation in commodity markets where the seller can move the market price, but a glance at the wool market over the last few months shows growers either selling aggressively on market rallies, or holding back on soft markets.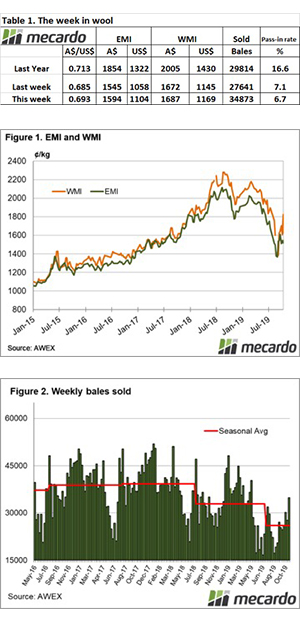 The pass-in rate has been in direct contrast to market moves, a falling market met with high pass-in rates and vice versa. This strategy has certainly supported the wool market with sellers reducing supply in the weeks where buyers have had little interest.
This week the Eastern Market Indicator (EMI) gained 49 cents (after rising 28 cents last week), to close at 1594 cents. The Au$ also rose to US $0.693, causing the EMI in US$ to also lift by 46 cents to 1,104 cents. The WMI also rose, however, a softer market in Fremantle on Thursday resulted in a gain of just 15 cents to 1687.
This market rise resulted in another week of single digit pass-in rates – sellers taking the opportunity to clear wool on a rising market. This week the PI rate was 6.4% nationally.
There was a bigger offering of 37,381 bales, almost 8,000 bales more compared to last week's volumes. This resulted in a big lift in the number of bales sold, up 7,200 on last week to 34,870. This is the largest clearance to the trade since May. The supply shortfall continues though, compared to the same period last year 108,541 fewer bales have been sold. This equates to an average weekly gap of 7,200 bales since July.
The dollar value for the week was $63.65 million, with a bale average value of $1,825, up $55 per bale on last week. The combined value so far this season is $678.15 million.
AWEX reported that the Crossbred section was the strongest on the week, with prices lifting 35 – 70 cents. Cardings again were quoted dearer with locks, stains and crutching posting 50 to100 cent increase, to average a 65 cent lift.
The week ahead
Next week another solid offering is listed, with 36,400 bales across the three centres. This size roster is forecast for the next three weeks.
Despite the increased offering the market this week was strong, there was however a cautionary note with Fremantle on the last day tending weaker.