Short weeks an analyst nightmare
Three short weeks in a row will play havoc with any market.   In livestock it seems to be even worse.  Some saleyards are closed, others selling two weeks' worth of stock and processors need fewer cattle.  Prices are similarly disrupted, but we've only a week to wait for a return to normality.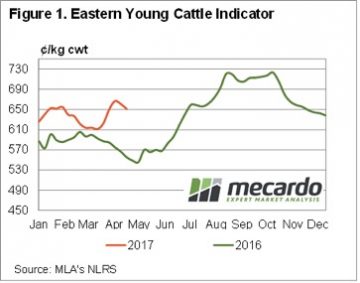 This week saw what could be described as a mixed bag in cattle markets.  The Eastern Young Cattle Indicator (EYCI) fell 9.5¢ to a three week low of 651¢/kg cwt (figure 1).  It appears the decline in prices was largely due to restocker and feeder demand waning marginally.
Trade Steers gained ground in eastern states, particularly in Queensland, where prices were up 64¢, over 10%, to 636¢/kg cwt.  In NSW Trade Steer prices were even higher, at 679¢, while they 'languished' in Victoria at 633¢.
Feeder steers were lower, losing ground in Victoria and Queensland, but they were at a solid premium to Trade Steers so perhaps it's just a correction, given that finished cattle become hard to find at this time of year.
For the first time in a month the Western Young Cattle Indicator (WYCI) has been reported, and it's come in higher than its east coast counterpart, at 693¢/kg cwt (figure 2).  The WYCI is at a 72¢ premium to this time last year as good seasonal conditions stifle cattle supply.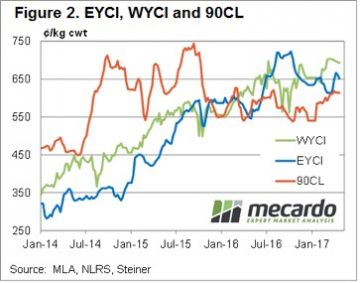 Figure 2 also shows the 90CL export beef indicator holding onto a price around 20 month highs.  This week the 90CL sits at 614¢/kg swt, supported by tight supply from Australia and New Zealand.
 The week ahead
Another disrupted week means we'll have to wait for another week for a genuine price indication from saleyards.  Over the hooks prices have largely been maintained however, which suggests supply remains tight.
Both MLA's forecasts, and our EYCI forecasts, suggests the good times in cattle markets will continue to roll, until about AFL Finals come around.  If you're a Richmond supporter, and a cattle producer, best to take the strong prices in August to avoid double disappointment.
.