Southern markets drag EYCI higher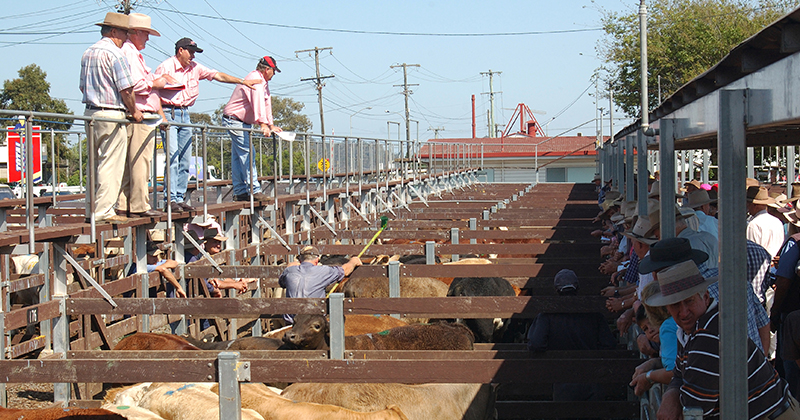 With a full week of sales returning, yardings were up, yet prices managed to hold ground and in some cases rise. Markets appear to be in a holding pattern, waiting for either a break, or lack thereof, before makings another move.
As producers made up for the short week, yardings in the Eastern Young Cattle Indicator (EYCI) lifted to a five week high (Figure 1). The main supply yards were in the north, with Roma and Dalby topping the yardings. Wagga was not far behind, and prices there were strong, helping the EYCI post a gain for the week.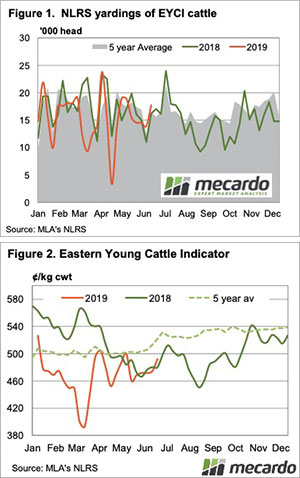 Young cattle at Wagga made 570¢/kg cwt, while at the Roma Store sale they were 475¢. The north/south winter divide has come in strong.
The EYCI itself gained 17.7¢, helped by southern markets, and hit a six week high of 492¢/kg cwt.  Figure 2 shows the EYCI has only been higher in three weeks this year. Demand must be improved on recent weeks, with more cattle selling for higher prices. A bit of rain in the south seems to be helping.
The most expensive cattle in the country this week were Export Feeders from the paddock. At 330¢/kg cwt, export feeders are quoted 47¢ higher than domestic feeders, which weigh about 100kgs less. The dollar per head differential comes in at nearly $500. The grass or hay to put on the extra weight is obviously still hard to come by.
After a few down weeks, the 90CL Frozen Cow indicator has found it's momentum again.  This week the 90CL gained 21¢ to almost get back to recent highs, at 687¢/kg swt. Demand for our beef on export markets remains strong.
Next week?:
The only areas that will see significant rainfall over the coming week are in WA.  As such we expect the holding pattern to continue in the cattle market, with tight supply being met by muted demand. 
More dry weather concern surrounding the new cereal crop is starting to grow. No cattle producers want to see another year of $400 grain and tight hay supplies, but every week it doesn't rain the nervousness grows.