Steady as she goes for lamb but mutton finding a lift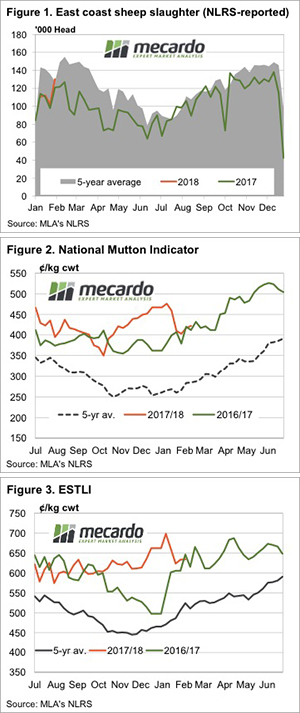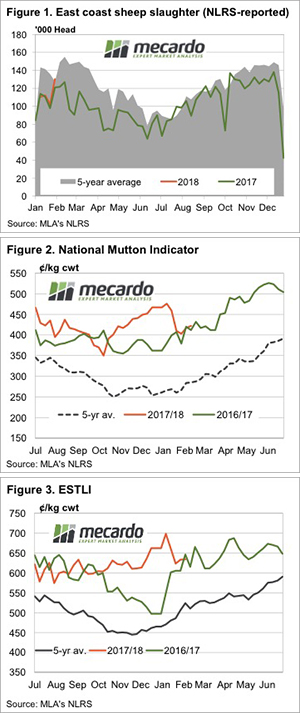 It was another unusually steady week for lamb prices, as supply seems to be closely matching demand.  Mutton prices found some strength however, especially in NSW, but regular readers will know this was not unexpected.
The thing about writing market analysis weekly is that no one really remembers the predictions you made unless they are particularly bold.  This is both good and bad.  Good when you get it wrong, bad when you get it right.  At least we have the opportunity to remind readers when we were right.
A couple of weeks back we surmised that after Australia Day demand for lamb wanes, more kill space might open up for mutton, boosting prices from what were three month lows.  Figures 1 and 2 show that we actually got this one right.
East Coast Mutton Sheep Slaughter rose to levels not seen in two years, and the extra demand has dragged the National Mutton Indicator 20¢ higher over the last two weeks to sit at 422¢/kg cwt.
Most of the mutton action was in NSW, where the indicator is at 430¢, and WA which has the highest prices sheep at 456¢/kg cwt.  Sheep in WA are 45% above the same time last year.
Lamb prices tracked sideways this week, with the ESTLI stalled at 634¢/kg cwt (figure 3).  Lambs are more expensive in Victoria, at 659¢, and cheaper in NSW at 630¢.  SA prices have recovered following the summer flush, and the decline in slaughter capacity, now sitting at 596¢/kg cwt.
The week ahead
Figure 3 shows that on average lamb prices are likely to track sideways to slightly higher at this time of year.  There is a risk prices could fall if the dry weather continues, especially in the parts of NSW where they might expect rain at this time of year.  On the other hand, a good widespread rain might see enough tightening to rally values back above 650¢.  There is nothing on the map for the next week, so expect steady lamb and mutton prices for the next week or so.