Supply up on Covid concerns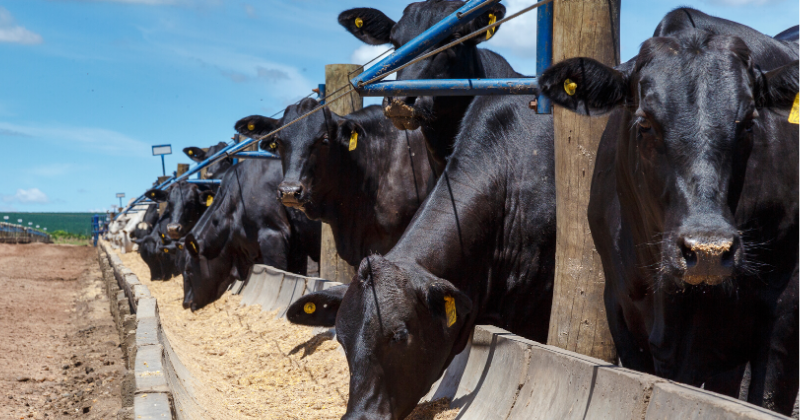 The stellar run for the Eastern Young Cattle Indicator (EYCI) came to a halt this week, with increased yardings forcing the EYCI lower. What wasn't taken into account, however, was the tanking Australian dollar seen late in the week, which should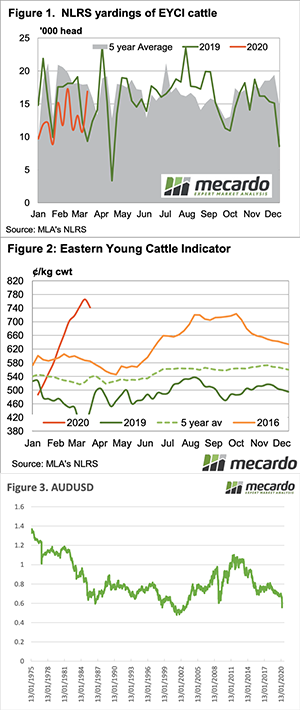 add support.
As reported earlier in the week, Australian cattle prices have been defying global trends as the drive to restock trumps demand concerns. This week we saw young cattle yardings increase to their second highest level for the year (Figure 1). Although, they still remain lower than the average for this time of the year.  
Stronger supplies saw the EYCI weaken 24¢, but figure 2 shows it is still in previously uncharted territory. While cows remained strong, it was heavy and medium steers which moved higher this week.  
It might have been export demand driving the heavier end, but there were also reports of cattle being bought for mincing. Panic buyers stripping the shelves is seemingly having a short term impact on demand domestic beef.
In WA, the Western Young Cattle Indicator sits just under 700¢. Cattle supply in the west is generally tight this time of year, and this, along with strong east coast prices, is giving WA values plenty of support.  
The talk of the markets was the tanking Aussie dollar. The AUD move lower than GFC levels, sitting just above 55US¢ at 2pm on Thursday (Figure 3).  Such is the volatility in markets, the AUD was back to 57US¢ at 10pm. The AUD is still down 7US¢ on last week, and this might see some support for cattle prices next week.   
Remember to listen to the Commodity Conversations podcast by Mecardo
Next Week.
While the lower Aussie dollar is good for finished cattle prices, it also pushes grain values higher.  And as you would have seen from the article on feeder prices this week, grain prices have a strong negative relationship with feeder cattle prices. The uncertainty in the market in general means we might have seen the top for now, but supply is only going to get tighter from here, especially for finished cattle.