Thanksgiving or thankstaking?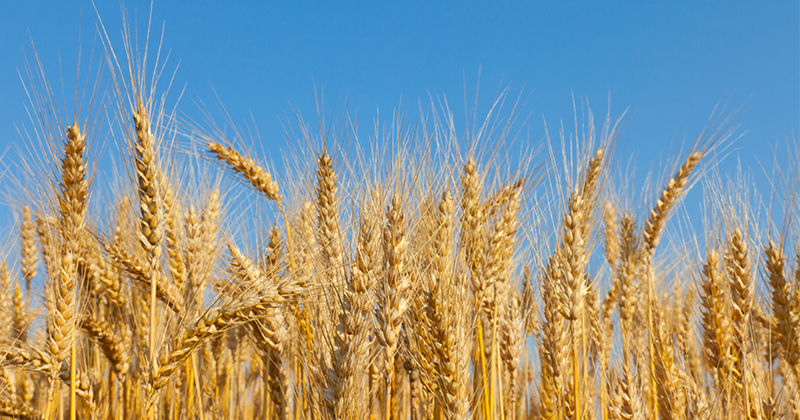 The USA was closed on Thursday for thanksgiving celebrations. This meant that the market was relatively quiet ahead of the holiday, so the focus on this week's market comment will be on the local market.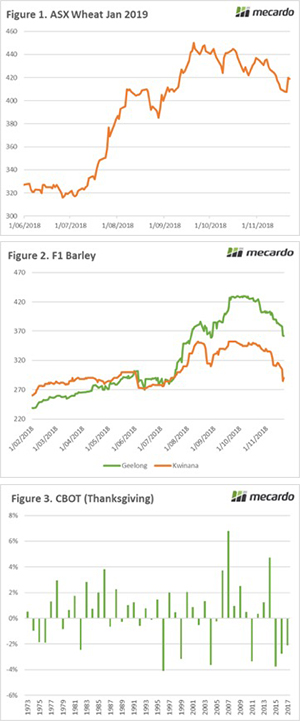 The ASX wheat futures market started the week in the red, as yields surprised, and consumers pulled out of the market. However, on Wednesday afternoon strong trading resulted in the market rising 2% since the previous Friday (figure 1).
The barley market took a turn for the worse this week. On Monday it was announced that China was launching an investigation into allegations of Australia 'dumping' barley in an uncompetitive manner. Earlier this year an investigation into US Sorghum dumping led to a 178% bond, this resulted in Australian sorghum becoming more competitive. However, a month later China removed the requirement to pay a bond.
Although prices had been steadily falling since mid-October, the trade reacted strongly to the announcement. This resulted in Barley prices falling across the board (figure 2). Western Australia took the bulk of the hit with prices down 7% week on week and 5% decline in Geelong.
The investigation is expected to last up to 12 months and if a bond is introduced, Australian barley for export will be uncompetitive into China which is overwhelmingly our largest customer.
Prior to thanksgiving volume on Chicago futures tends to dip as traders pull their positions ahead of the holiday. However, what happens when they come back to work? In the past 44 years the market has risen on the first trading day after thanksgiving on 26 occasions (figure 3). Overnight an Egyptian tender was partially filled with US wheat, which will likely give some support for futures when they open.
What does it mean/next week?:
How will the market react as harvest continues? At present it is a Mexican standoff, where buyers hold off and growers store their grain.
There has been strong rainfall in NNSW which will assist with the summer sorghum crop. Although there is still a long way to go until it is harvested, this does provide some confidence.