The inevitable correction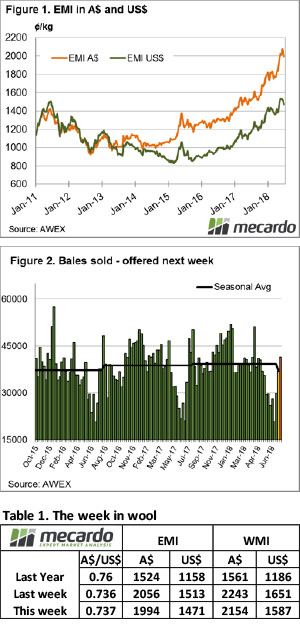 The wool market lurched into F19 with an overhang of wool producer's bales looking to swing income from F18 to F19. If the plan was to reduce tax payable, the market assisted and pulled the market back in all centres and on both days.
By the end of the week the market had retraced 80 to 100 cents across all Merino types.
The Eastern Market Indicator gave up 62 cents over the week to settle at 1,994 cents AU$ terms. (Figure 1).
This week the Australian dollar traded steady ending Thursday at 0.737. The EMI was also weaker in US$ terms although not to the same scale as in Au$ terms, closing at 1,471 US cents, down 42 on the week.
The eagerness of sellers in the past month evaporated this week, with 14.3% passed in on Wednesday and a further 17.2% on Thursday for a total of 15.6% over the week.
Still, the large offering of 43880 bales resulted in 37,018 bales sold, well above the 27,000 averages for June but in line with the season average of 39,000 per week.
While all categories of Merino fleece were affected, it was the lower style and lots with poor measurements that really struggled, conversely any lots with good specifications were keenly sought. This trend is a replica of previous soft markets.
Contrary to recent sales Crossbreds escaped the full brunt of the market retreat on Wednesday, however took a turn for the worse on Thursday, with declines on the week averaging 30 to 50 cents.
 Merino Skirtings eased in line with fleece wool, however lines containing >5% VM found few friends.
Merino Cardings also eased with the Cardings Indicator in Sydney – 10, Melbourne – 10 and Fremantle -5 cents.
The week ahead
Next week all 3 selling centres will be selling, and a reduced offering of 41,431 bales are rostered for sale, significantly lower than this week.
This should take some of the pressure off the market although keen watchers will be looking for any negative trend developing should we see another week like this.