The year for cattle
The majority of saleyards have reopened now to start the 2018 season and while there is limited reporting of state by state cattle categories undertaken by Meat and Livestock Australia this week there is enough in the major saleyard reports to kick off the Friday market comments for the new year.
Most MLA saleyard reports indicate that young cattle were the dominant volume with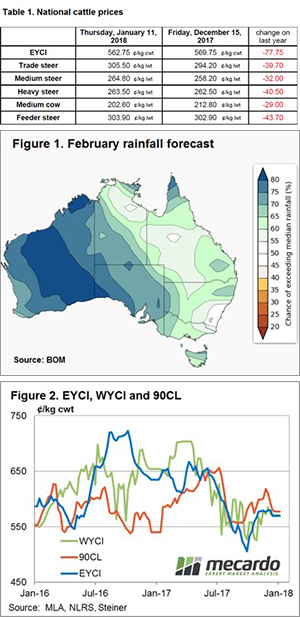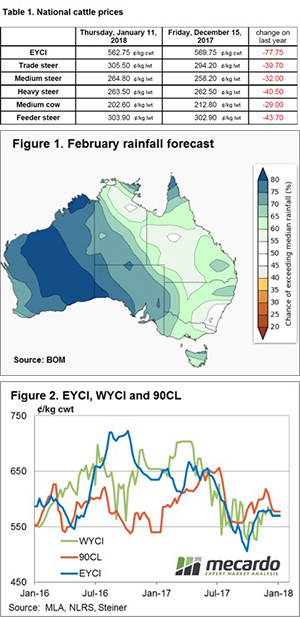 lotfeeder and restocker activity fairly prevalent. Many saleyards did not have the full compliment of processor and export buyers in attendance and both quality of stock present and price movement reported as being fairly mixed.
A look at the national price results for the week, compared to last years closing prices and the change from opening prices in January 2017 are displayed in Table 1. The mixed price results from the sale yard reports are reflected in the price movements from last year's close to this week's opening prices with the EYCI slightly softer at 562.75¢/kg cwt, a decline of 1.2%. Trade, Medium, Heavy and Feeder steers have all lifted, with Trade Steers leading the gains – up 3.8% from the December close. National Medium Cows the clear laggard posting a 4.7% drop to close this week at 202.6¢/kg lwt.
The Bureau of Meteorology (BOM) are now updating their three-month outlook twice a month with the "first look" being released yesterday for the February to April period. The weak La Nina and recent warm waters around much of the nation responsible for anticipated increased moisture to much of the West and parts of the far North and mid-East for the February period – figure 1.
EYCI, 90CL and WYCI markets now back in sync after wide variation in prices from this time last year – figure 2. Indeed, these three markets are now within 15¢ of each other compared to January 2017 were the price variance between the three categories was in excess of 100¢, with the 90CL heavily discounted at the time.
The week ahead
Table 1 highlights that the cattle market has opened the 2018 season slightly weaker compared to last season, although not significantly so, with the EYCI 12% lower and Heavy Steers off 13%. Historically, the performance of the cattle market over January can be a good predictor to how the season fares over the year and early signs point to a relatively stable, albeit mixed start.
The prospect of some decent rainfall into February may lend some support into the later part of January but there are some dark clouds in the form of a higher A$ and the likelihood of softening beef export prices that could keep any significant gains under wraps.