Throughput collapses as ESTLI makes a record high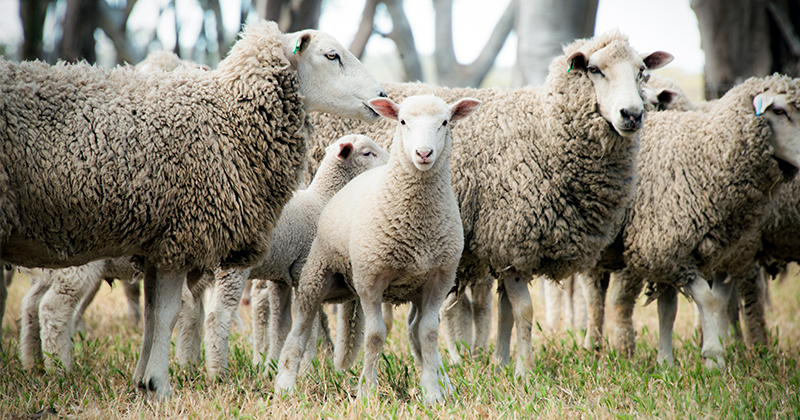 Sheep and lamb yardings have dipped to levels more consistent with the mid-winter lull in supply in response to 50-100 mm rainfall across much of western NSW and central Victoria this week. Slaughter levels remain in the doldrums too with the tight supply continuing to provide price support.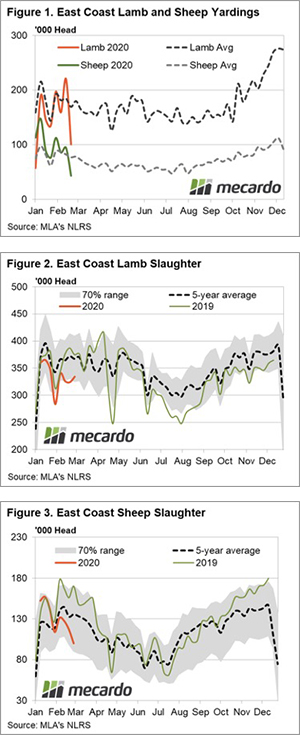 Weekly east coast lamb yardings dropped a massive 54% with just over 100,000 head presented at the saleyard for the last week in February (Figure 1). This represents a level 40% under the five-year pattern for this time in the season and more akin to what you would expect to see in the depths of winter when lamb supply is at its tightest.
The dearth of lambs is encouraging the appropriate price response with Meat and Livestock Australia's NLRS service showing all national and east coast categories of lamb posting price increases this week. The Eastern States Trade Lamb Indicator (ESTLI) gained 3% to finish at 962¢/kg cwt. This bested the previous all-time high achieved in mid-July last year by 11¢.
Weekly sheep yarding levels softened too during the final week of February. They were down 55% from the week prior and trended 44% below the five-year average pattern at just under 43,000 head yarded (Figure 1). Despite the lower sheep numbers, the National Mutton Indicator eased slightly, off 1% to 683¢/kg cwt. On the east coast, mutton prices were softer too this week, but NSW and Victorian saleyards still averaged prices above 700¢ so producers there can't be too despondent.
Although, despondent is a good descriptor for weekly east coast slaughter levels for both lamb and sheep as the high saleyard prices and tight supply are encouraging low volumes at meatworks. East coast lamb slaughter is trending at the lower end of the normal seasonal range, around 9% under the five-year average pattern (Figure 2).
Weekly east coast sheep slaughter levels continue to probe lower, breaching under 100,000 head at the end of February to sit 26% below the five-year average pattern and a whopping 41% under the sheep slaughter levels seen at this time last season (Figure 3).
Next week
Limited rain is forecast for the coming week across NSW and Victoria, with most regions lucky to get above 10mm. Much of SA and WA are set to miss out entirely. Despite the respite in rainfall, the tight supply should be enough to keep sheep and lamb markets ticking along with prices holding stable to slightly firmer.