Tightening trend is the producer's friend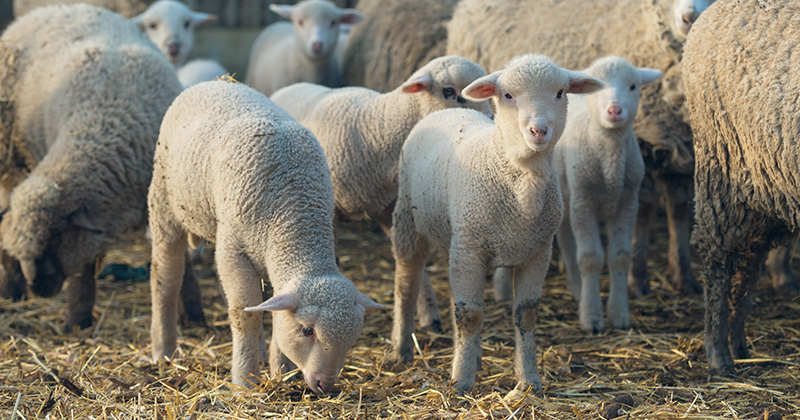 There has been a softer trend present in lamb and sheep yardings in recent weeks. It is not uncommon to see a reduced sale yard offering as we head toward the Easter lull and with recent rainfall to much of the Eastern third of the country it seems to have encouraged firmer prices.
Throughput figures for this week are yet to be released. However, the trend in sheep yarding along the East coast is most definitely softer with the most up to date numbers showing the lowest weekly levels since the start of February – Figure 1.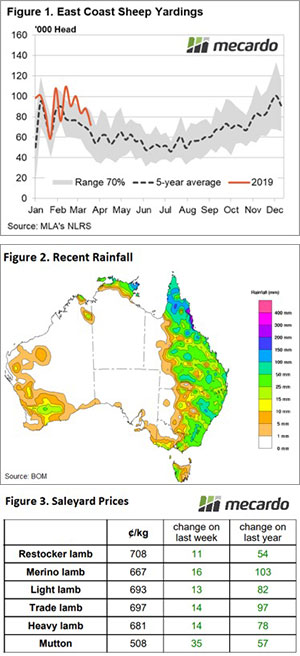 Despite the softening pattern, sheep throughput remains above average, and this may persist when the figures are released next week as individual reports from many NLRS reported sale yards indicate that numbers were up, possibly encouraged forward on the back of last weeks' strong prices.
It is likely that rainfall had a bigger influence on prices than sale yard throughput levels this week with decent falls across much of the Eastern states encouraging restocker buyers back into the market, particularly at NSW yards – Figure 2.
Across the East coast NLRS reported categories of lamb and sheep all managed a lift in price. Mutton was the standout performer among the pack with a near 7% gain on the week to close above 500¢. Lamb categories posting a more subdued performance, with gains of 1.5%-2.5% noted. Restocker lambs managed to climb back above 700¢, while the benchmark Eastern States Trade Lamb Indicator settled just below to close the week at 697¢/kg cwt (Figure 3).
Lighter rainfall in the West wasn't enough to inspire a price gain with the mid-week update from MLA showing a 5¢ slip on the West Australian Trade Lamb Indicator for the week to settle at 654¢.
What does it mean/next week?:
The Bureau of Meteorology rainfall outlook for the coming week shows only light coverage of 1-5mm around nearly all the coastal fringe, with only the far northern tropics getting a heavier dusting.
Virtually no rain is likely for most of the sheep rearing country, so price movements are likely to be influenced more by supply. Heading toward the Easter break there's a good chance this will continue to tighten so the price bias remains to the topside.