Uncertainly certain.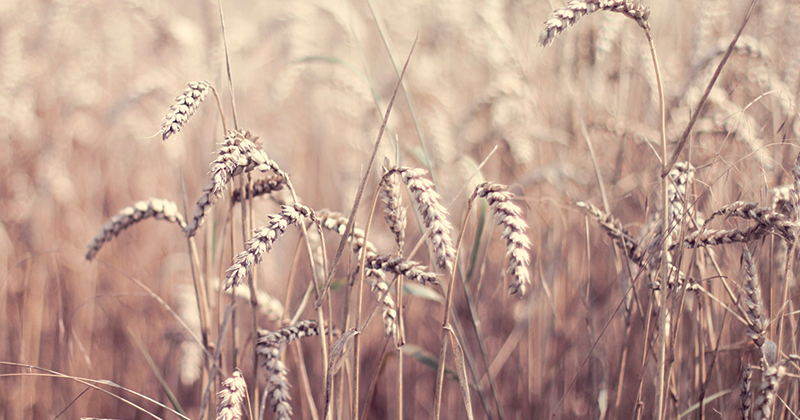 As we near the northern hemisphere harvest period, volatility comes into the market, further assisted (and at times hampered) by continued political posturing by the giants of the US & China. In this week's comment, we look at weather concerns and pricing in the world's largest wheat producer.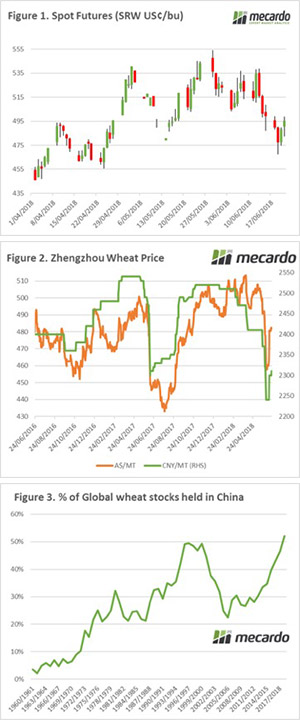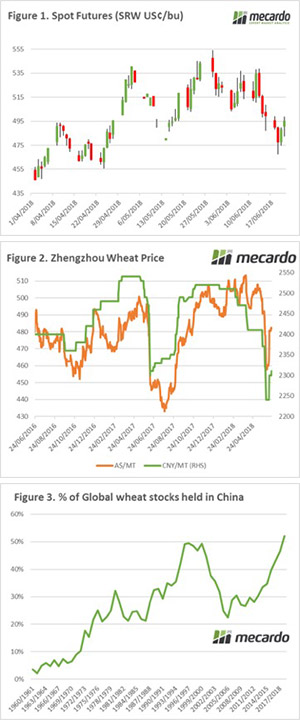 At the end of last week, the markets were rocked by the erection of tariffs firstly by the US, followed by retaliation by China. The worst impacted ag commodity was soybeans (see article), however, wheat didn't fare all that better. The spot contract had lost 23¢/bu between Friday and Tuesday but has since regained its grounds returning to Friday levels (Figure 1).
The June/July period is typically the most volatile time of year due to the start of the northern hemisphere harvest. There are diverging opinions on the outlook for the black sea region, with some analysts dropping production estimates at the same time as other raising them. One thing we know with certainty is that that region has a high degree of uncertainty; surprises are common.
China is the world's largest wheat-producing (and consuming) nation and they have had a hiccup this season. Poor weather has hampered the crop resulting in a fall in forecasts for the crop, with official Chinese government estimating a drop of 3mmt year on year. The crop concerns have resulted in local Chinese prices rising since the start of June, albeit from a multi-year low (Figure 2).
This may lead to an increase in imports which would likely originate from out with the US due to trade tariffs. We do have to be cognizant of the fact that China holds very high stocks of wheat (Figure 3), holding more than half the world's wheat inventory.
What does it mean/next week?:
At a local level, there is welcome rainfall forecast for WA, NSW & QLD. The forecasts of rainfall for NSW and QLD in recent months have had a worrying tendency to fizzle out. Let's hope that this rainfall comes to fruition.
It would not surprise me if we saw additional tariff announcements by the US this evening. If we do, China will ramp up its tariffs shortly afterwards.