US to take the task.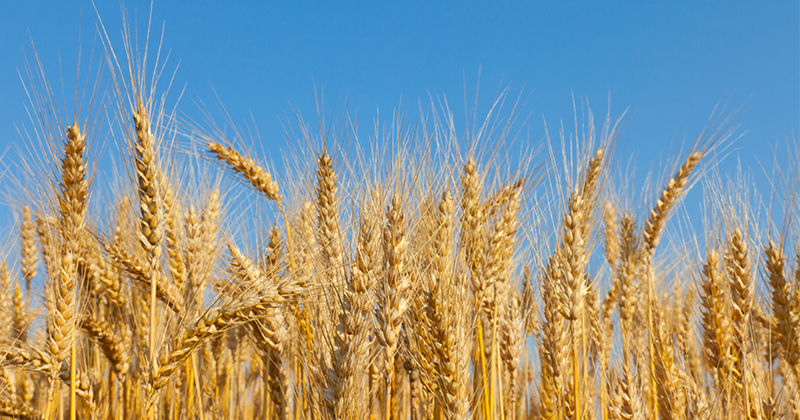 We are starting to get through the northern hemisphere weather window and the crop condition is now largely known. European Union and Black Sea exports are going to decline and locally we can be sure that Australia won't export. The task now returns to the US. In this weekly comment, we give a short overview of the market.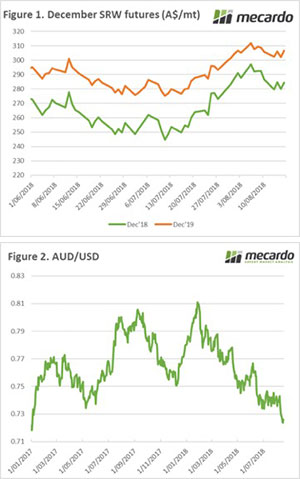 Chicago wheat futures spent most of the week in the red, however overnight regained some ground. Overall, in Au$ the Dec'18 contract is $2 more than last week and Dec'19 is unchanged (Figure 1). The big surprise was the increase in export sales out of the US, at 803kmt it was a week on week increase of a whopping 153%.
The sales were to a wide range of destinations, including the Philippines, Nigeria, Mexico and Iran. This could point to further tightening of the global exportable balance sheet. The drought conditions in Europe, Australia and parts of the Black sea will eventually result in export volume switching to the US.
Although Australia will not be an attractive export origin this year due to the drought basis, the Australian dollar has taken a dive this week falling back to the lowest level since January 2017 (Figure 2). The fall is attributed to a combination of low wage growth and wider geopolitical concerns emanating from the trump tariffs with China and Turkey.
At a local level, the market seems to have stabilized this week, with most markets relatively unchanged since the end of last week. At present it doesn't really matter what bid the market makes, growers are unwilling to sell due to lack of clarity on production and higher pricing expectations.
On the rainfall front, there is rain headed to the southern cropping regions, however, NSW and QLD are set to by and large miss-out. At this point, we can largely write off the NNSW and QLD crop, with the focus shifting to whether they can get enough moisture to plant a summer crop.
What does it mean/next week?:
Turkey remains an interesting conundrum as Trump looks set to enact tariffs against the nation. In the past month, the Turkish lira has depreciated by 20%. This has resulted in them cancelling their wheat import tariffs to make it more competitive to import.
The export data from the US in coming weeks will give an insight into whether this weeks export sales were an outlier, or whether this is a start of a trend of exports moving back to the US.