Volatility in the US not impacting here -yet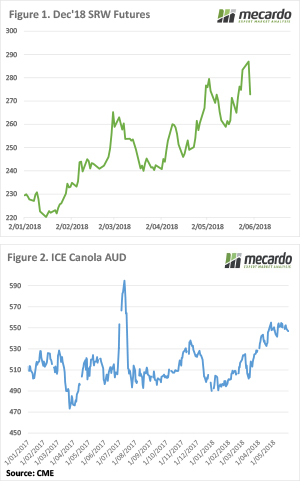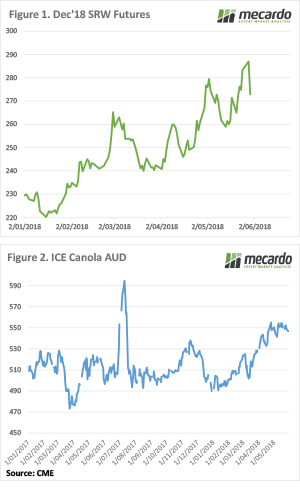 The wheat yo-yo continued in the US as they approach harvest. Chicago Soft Red Wheat rallied to new highs this week, before easing back again. The charts are pointing to more upside, but supply will soon start rolling in.
It was all up for CBOT wheat late last week, but after the long weekend in the States, some profit taking and pre-harvest grower selling sent values back to 574¢/bu.  In our terms, Dec-18 reached $285/t, before finishing yesterday at $272/t.
Figure 1 shows the classic rising price trend. Wheat prices are making higher highs and higher lows. At some stage, the market will make a lower high, which signals the end of the rally.
Wheat prices are trying to come to terms with this year's lower production, but there has been a lot of speculator activity on the buy side. This might dissipate when harvest starts rolling in.
The latest US crop condition report has 38% of the wheat crop in good or excellent condition, compared to 50% last year. Poorer condition means lower yield, how much lower is the question.
Locally things were relatively steady despite the fluctuations in the US. The spreads of recent years remain in place, with price ranging from $355 at Newcastle for an APW Multigrade, to $296/t at Port Adelaide.
Canola prices in Canada have steadied at around $550/t in our terms. In quite an unusual quirk, new crop canola prices are still at a negative basis to ICE Canola. Yesterday's Geelong Canola price for 18-19 was $546/t, despite what should be dwindling production expectations.
The week ahead
There are some promising signs on some of the 7-14 day rainfall forecasts, which might get the crop going in NSW if it eventuates. It's interesting that basis hasn't really gone as crazy are you might expect given the dry, with new crop supplies expected to alleviate some the current supply shortages.
The is some potential for downside in international markets, but not too near the 220s of earlier this year.  Maybe back to $250/t during the wheat harvest, and if summer rainfall is good in the US there might be more downside.