Waning export values draining the impetus from cattle
It was another poor week for beef export values, and cattle prices reacted accordingly.  As we reach the end of the year attention will turn to weaner sales in Victoria, with the main fundamental which will swing the market being rain in Queensland.
In some way we seem to have seen demand for cattle shift to sheep and lamb markets.  Cattle supply is down, yet prices are weaker.  In sheep and lam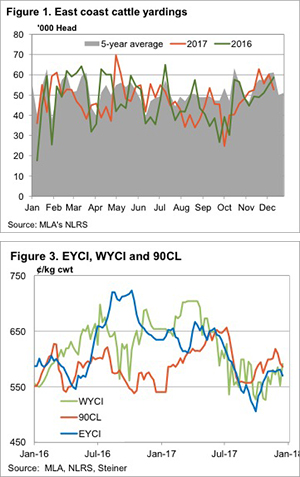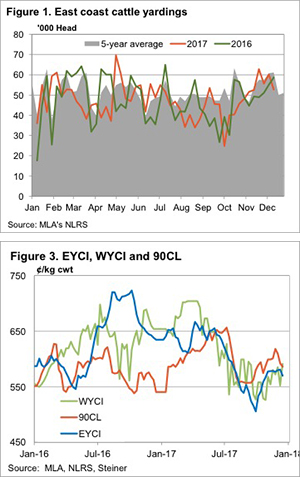 b markets, prices are higher, yet supply is stronger.  An interesting conundrum.
Weaker cattle yardings (figure 1) couldn't provide support to cattle markets this week.  East Coast yardings fell 12% back to a one month low and below the same time last year.
Yet the weaker supply was met with weaker demand.  The EYCI lost 9¢ to 569¢/kg cwt, but it was really only young cattle which weakened.  Trade and Heavy Steers, and Cows all remained relatively steady on a national basis.
If we look at prices relative to this time last year, it is Cow which are performing the best.  The East Coast Medium Cow Indicator is 6% below this time in 2016, while the EYCI and Heavy Steers are both 9% lower.
The Western Young Cattle Indicator was the star performer of the week.  The WYCI gained 39¢ to 591¢/kg cwt.  A solid rise, yet the WYCI was only making up ground lost last week, and remains 10% below the same time last year.
The week ahead
Figure 2 shows the easing 90CL indicator, which now sits around the same level as the EYCI and the WYCI.  Export markets generally ease as we move into the end of the year, but often recover in January.  There is a reasonable chance the export market will provide some support in the New Year.
As mentioned at the start of this article, it's Queensland and Northern NSW rain which is going to provide the real upside.