WASDE & rain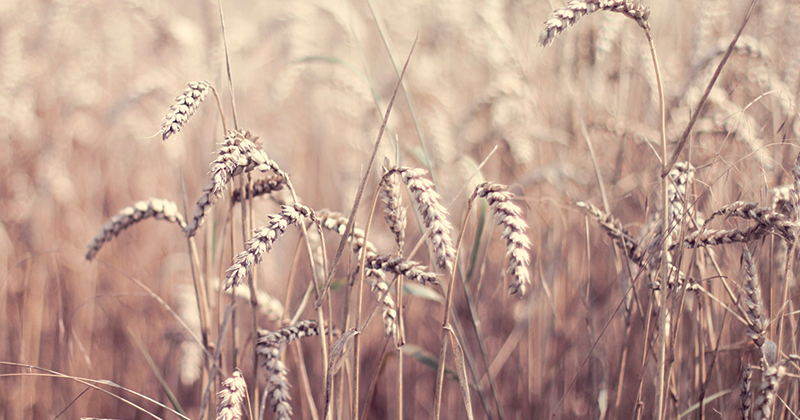 The rain has arrived in the east, but it's still too early to call the drought broken. Nonetheless, the sound of rain on the roof is great therapy. In this weekly comment, we take a brief look at the WASDE report and how the market has reacted to the downpours.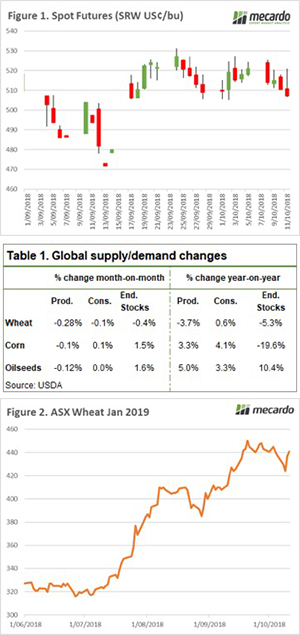 The futures market is down 2% week on week (Figure 1). The market has largely been treading water over the past fortnight with the lack of substantive data. At this point of the year, the world production is largely set with only the southern hemisphere being a relative unknown. The big issue is where we go to in 2019, as globally we are on the tipping point.
The WASDE was released overnight (Table 1).  The report didn't provide enough fire to really move the market, however global wheat production was reduced overall by 2mmt, with falls in Australia (-1.5mmt) and Russia (1mmt).
The USDA has lowered Australian wheat exports to 13mmt, however, at this point this is overly optimistic. While the east coast suffers through a deficit, the WA crop will find it's way around the Bight. In the coming months, this figure will be downgraded substantially and impact the availability of global exports.
It was expected that the USDA would drop their projection to 17 or 18mmt, however they were conservative with 18.5mmt. This fall will not be a surprise to anyone in the Australian grain trade and will have little impact on pricing locally as most are working on a sub <18mmt national production figure.
The east coast has seen some very welcome rainfall at the beginning of the week, with more forecast over the next fortnight. This led to a 4% decline in ASX futures, with the contract falling from $441 to $424. However, the market regained all its losses and settled on Thursday at $441. The reality of the rain is that it is too late for the majority of the crop, and the only hope for consumers is the outcome of the summer crop.
What does it mean/next week?:
Harvest is starting to get underway in WA. Over the next month, it will be interesting to see how the frost impacted the crop. All expectations are still for a reasonable crop and sufficient stocks to feed the east coast domestic demand.
In the east coast, many will be watching the moisture profile to make the decision on whether summer planting of sorghum is worthwhile. At present, there are a lot of acres to be planted, with moisture being the only barrier.