What a difference a rain event makes.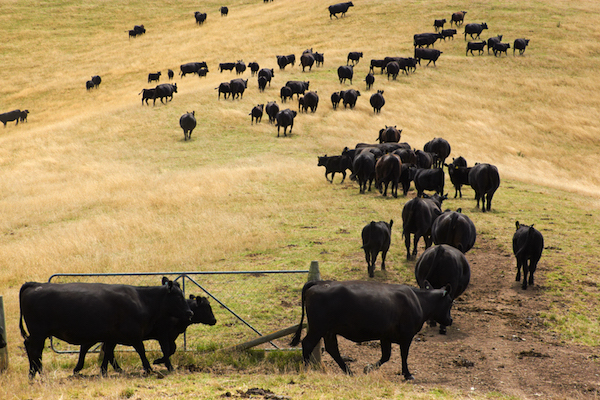 A good dumping of rain in Queensland over the week has seen East coast cattle throughput fall back toward more normal levels, led by declines in Queensland. The rain and lower supply has provided some support to northern cattle prices and has given the Eastern States Young Cattle Indicator a lift, closing 5% higher to end the week at 565.5¢/kg cwt.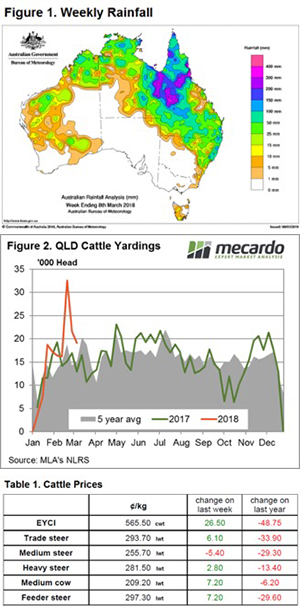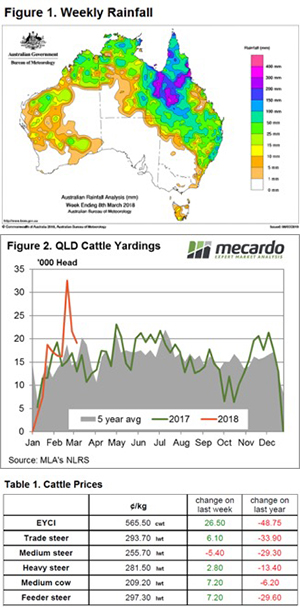 Figure 1 shows the effect of the significant tropical low over Queensland that generated total weekly falls in excess of 200mm in some parts of the north west, northern interior and northern tropical coast of Queensland.
The impact of the northern rain has seen Queensland cattle yarding levels ease 41% over the last fortnight toward levels much more consistent with the longer term average pattern for this time in the year – Figure 2. The drop in Queensland cattle throughput has been mirrored in the broader East coast figures, with a 28% decline noted over the last two weeks to see it sit 6% above the five-year average at just over 56,000 head.
State sale yard cattle indicators, as reported by NLRS during the week, show that gains in Queensland cattle categories ranged between 5% to 20%. Queensland Vealer Steers were the standout performer, with a 60¢ rally early in the week to reach 357¢/kg lwt. NSW and Victorian cattle prices were a little more muted, with most categories flat to 5% higher.
In the West young cattle eased 3.8% on the week to return to levels more consistent with their East coast counterparts, the WYCI closing at a mere 3.25¢ above the EYCI to reach 568.75¢ yesterday. In offshore markets, the 90CL Frozen cow continued to trek sideways, closing slightly softer on the week, 1.7¢ lower to 599.9¢/kg CIF.
What does it mean/next week?:
There is another huge tropical low sitting to the north of Queensland, but much of the significant rain from this is forecast to fall into the Gulf of Carpentaria, with only 10-25mm making its way onto land in the far North.
Given the volume of rain into Queensland over the last fortnight, it's unlikely that cattle prices will ease much there in the week ahead. The 90CL is likely to find some continued support into the coming month as a firm domestic price outlook will keep buyers keen for imported grinding beef.