Wool back on the roller coaster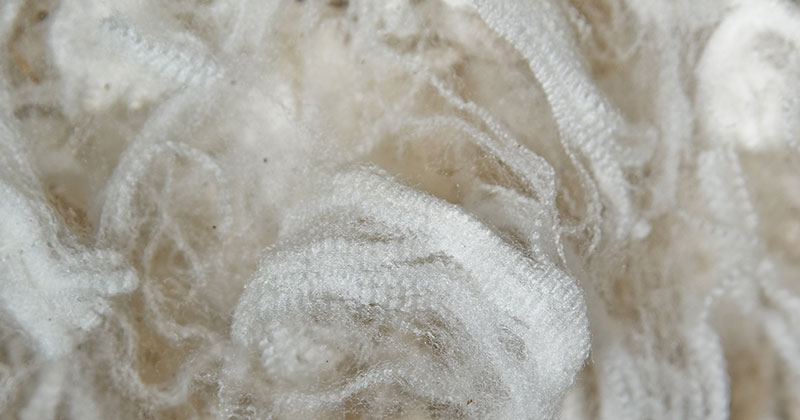 After strong buying activity last week, this week we saw buyers retreat in what was the lowest offering since June last year with Fremantle not selling at all. The market fell back as buyers were cautious about filling orders due to the small offering and lower quality wool. In going over our records of bales sold (back to October 2015), this week and 2 weeks ago are the only times where sales on a weekly basis have been below 20,000 bales.
The Eastern Market Indicator (EMI) gave up 23 cents this week after gaining 54 cents last week and closed at 1,864 cents. The EMI has fallen 4 out of the last 5 weeks, with AWEX reporting it has lost a total of 96 cents since week 44. The Au$ again found some strength lifting almost 0.5 cents to US $0.697 and as a result, the EMI in US$ terms only fell by 7 cents to end the week at 1,299 US cents (Table 1).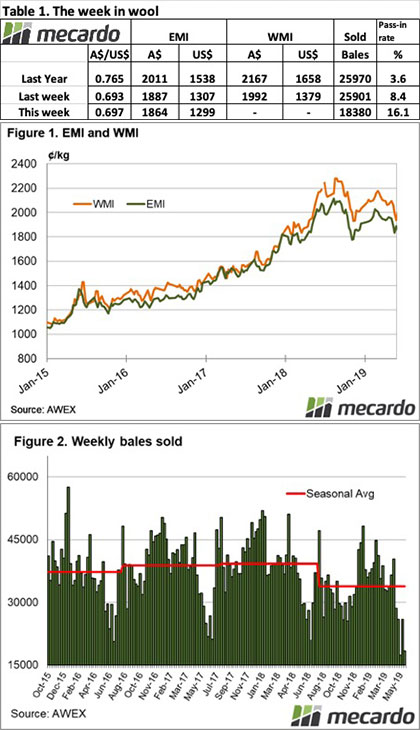 An offering of just 21,787 bales came forward, almost 7,000 less than last week (note Fremantle did not sell). Growers again reacted against the easier market. The total pass in rate for the week was 15.5%, well up on last week's 8.4%. This meant just 18,380 bales were cleared to the trade, 11,300 below the corresponding week last year. In the auction weeks since the winter recess, 1,351,521 bales have been cleared to the trade, 242,721 fewer than the same period last year.
The dollar value for the week was just $35.18 million, for a combined value so far this season of $3.077 billion. A simple calculation of $ value divided by bales sold gives us $1,914 per bale across all types for the week.
Crossbred wools also lost ground after a strong effort last week, losing 5- 10 cents, however the 30 MPG category was quoted slightly stronger. Oddments were cheaper, giving back the gains of last week. Since the Cardings peak of Sep 2018, AWEX report on average across the 3 selling centres Carding Indicators have fallen 571 cents.
The week ahead
Fremantle returns next week however a combined offering of just under 30,000 bales is rostered. The following weeks 19,000 and 31,000 bales are currently forecast.
Supply is always at its low point in Winter, however buyers and processors will be watching closely to see the extent of the supply increase and quality improvement in the Spring.