Wool buyers are back and busy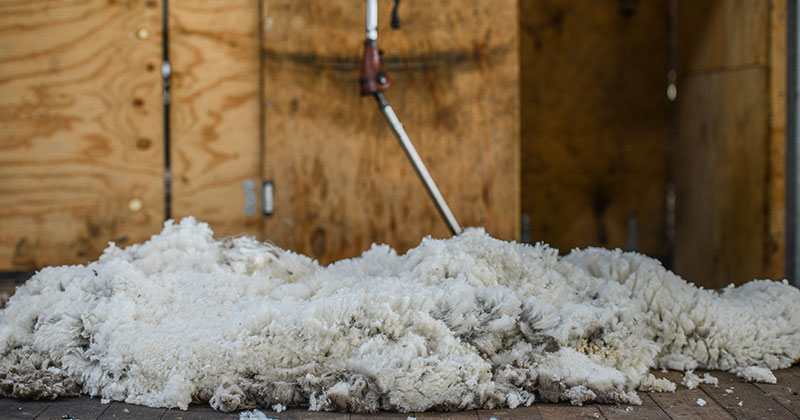 The wool market kicked back into gear this week as buying sentiment strengthened. A limited offering meant buyers were more aggressive with their purchasing to secure their requirement. All categories and microns felt the benefits. 
The Eastern Market Indicator (EMI) rose 54 cents on the week to close at 1,887 cents, nearly making up for last weeks 60 cent loss. There is still some way to go yet to climb back from the 3 consecutive weeks of a falling market.  The Au$ lifted this week to US $0.693 and as a result, the EMI in US$ terms rose by 46 cents to end the week at 1,307 US cents (Table 1).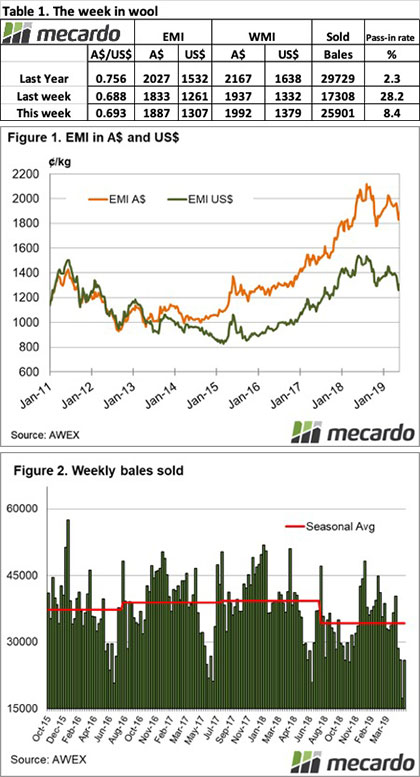 The Western Market Indicator (WMI) gained 55 cents to 1,992 cents this week. Medium Merino wools attracted the most support. The largest increase being the 19 MPG in Melbourne lifting 80 cents.
Supply was again at low levels with the national offering of just 28,273 bales. With the market moving higher, growers were more content with their levels. The total pass in rate for the week was 8.4%, a dramatic drop from last weeks 28%. This meant 25,901 bales were cleared to the trade, which is in line with the volumes cleared this week of sale in 2018. In the auction weeks since the winter recess, 1,333,141 bales have been cleared to the trade, 252377 fewer than the same period last year.
The dollar value for the week was $50.69 million, much improved on last week. The combined value so far this season is $3.042 billion. A simple calculation of $ value divided by bales sold gives us $1,957 per bale across all types for the week.
Crossbred wools felt the results of strong demand, rising 45- 50 cents. Oddments also moved higher, with AWEX reporting that locks came under intense pressure as multiple exports competed for limited quantity which pushed prices up 30 – 40 cents.
The week ahead
Fremantle aren't holding any sales next week, so the roster for Sydney and Melbourne is looking at a combined offering of just 23,619 bales. The following weeks 23,360 bales and 19,610 are currently forecast. While we usually see a dip in supply as we draw to the end of the selling season, this will add to what is already 12% less auction volumes this season to date compared to the same period in 2018/19.