Wool has a steady week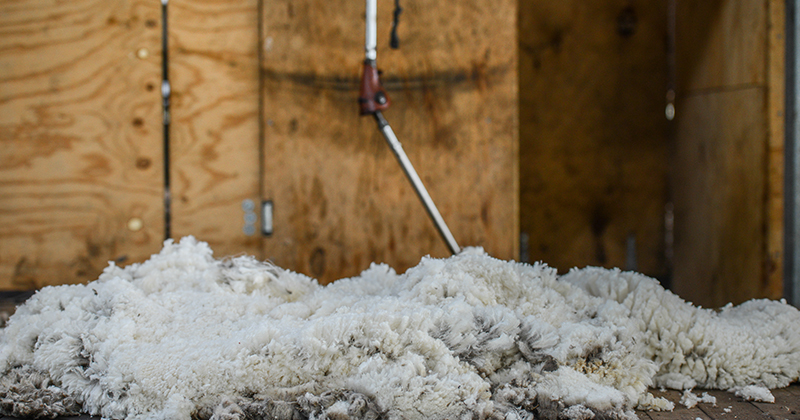 Following last weeks drama, the wool market found support and when all is considered, performed well. The finer microns led the way with buyers keen to purchase in the wake of possible total auction room shutdowns in the future.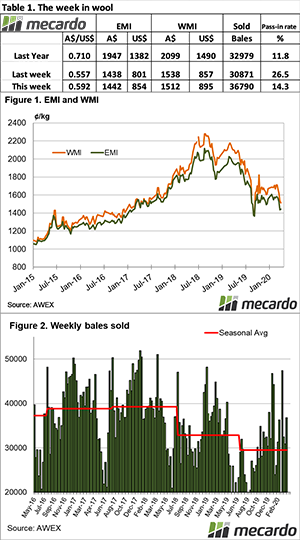 Concern was noted in the AWEX report that the Covid-19 impact could eventually close sales altogether. In an attempt to get as much wool into the processor's pipeline before any potential total closure of sales, in the week that was to be the Easter recess, an additional sale has been scheduled.
Supply ex-farm could also be impacted in future weeks. The offering of circa 5.7 million kgs this week came from approximately 1.3 million sheep. Any disruption to shearing teams as a means of preventing group contact could see this supply interrupted or in a worst case scenario, halt.
The Eastern Market Indicator (EMI) gained 4 cents to close at 1,442 cents. The Australian dollar continued its roller-coaster performance and rallied almost US$0.035 cents to be quoted on Thursday at US$0.592. This didn't help buyers, with the EMI in US terms up 53 cents to 854 cents.
With fewer fine wools the Western Market Indicator struggled, and by weeks end gave up another 26 cents to close at 1,512 cents. WA brokers passed in 19.8% of the 8,089 bales offered, selling just 6,485 bales.
Of the original roster, 11% was withdrawn prior to sale by growers, resulting in a similar offering to last week of 42,934 bales. The pass-in rate fell to 14.3%. nationally leaving 36,790 bales cleared to the trade.
This week the total sales value was $55.35 million (up almost $9. Million on last week) or $1,505 per bale, exactly the same per bale value as last week.
After holding well in the last couple of weeks, Crossbred types eased marginally. The Cardings indicators were a mixed bag, with 17 & 34 cent falls in Sydney & Fremantle respectively, while Melbourne posted a 20 cent gain.
The week ahead
Again a large roster is listed for next week with 45,810 bales scheduled and all centres selling on Tuesday & Wednesday only.
There seems a level of buyer commitment at these readjusted prices, and with supply concerns going forward, the market should at least hold steady next week.