Wool in balancing act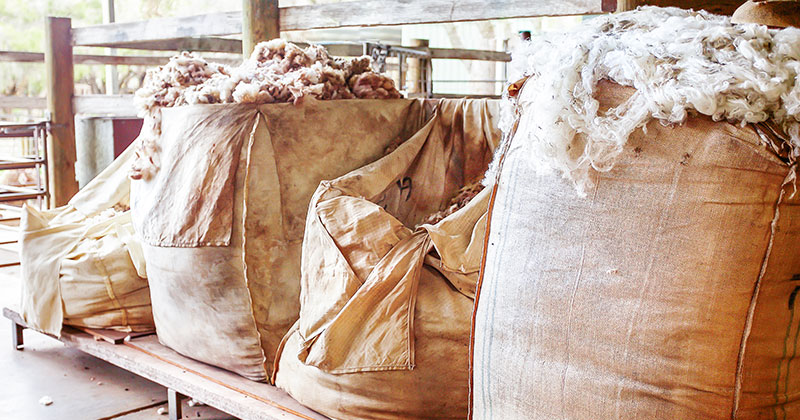 This week the wool market operated under the shadow of the Novel Coronavirus, causing widely differing predictions as to the likely impact this would have on the market. With China the dominant force in the wool market by a long way, concerns were high as to the likely effect.
The reality was that the wool market improved in a week of global uncertainty, confounding many observers.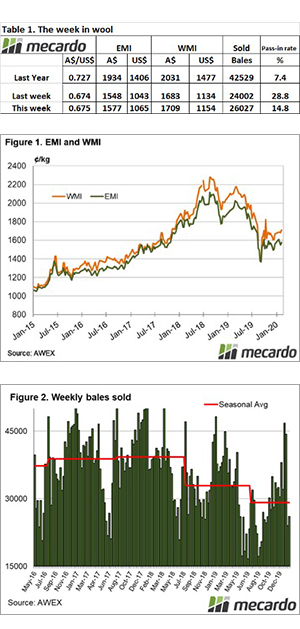 The Eastern Market Indicator (EMI) rose both selling days this week, to scrape back some of its recent losses, closing at 1,577 cents. The AU$ improved marginally to close at .675 cents. In US terms, the EMI rallied 22 cents to 1,065 cents.
The Western Market Indicator (WMI) also improved by 26 cents to close at 1,709 cents.
The wool market at this time is remarkably well balanced. In January the low stock holdings by processors became a concern, and buyers bid the market up with growers responding and selling 90,000 bales in the first two weeks of 2020.
With all the concerns of the global trade situation in recent times, demand has contracted and the effect has been that growers only cleared to the trade 50,000 bales in the past two weeks. The balance between supply & demand is currently being managed well with these supply adjustments assisting prices to remain solid in volatile times, unlike previous negative global trade events.
The national offering of 30,562 bales came forward, with a better market encouraging a reduced pass-in rate, settling at 14.8% nationally for the week. Just 26,027 bales were cleared to the trade.
The dollar value for the week was $43.35 million, for a combined value so far this season of $1.294 billion.
The crossbred types continued the trend of late last week to also lift, the only exception was the 26 MPG in Melbourne. It was noted that poorly prepared Crossbred lots made up most of the passed in lots in this section. Cardings indicators in all centres posted gains reflecting the generally stronger overall market.
The week ahead
The market demonstrated remarkable resilience this week, and with reports of low stocks held by processors any return to normality in China could well see demand and prices lift. The Chinese New Year usually causes a slow-down in business activity, and coupled with Coronavirus concerns factory activity has been almost at a standstill. This will have continued the decline in stocks on hand at the processor end.
The offering posted for next week is 42,900 bales and is a designated Tasmanian sale. The following weeks are posted at 36,381 and 37,485 bales.