Wool market back to the base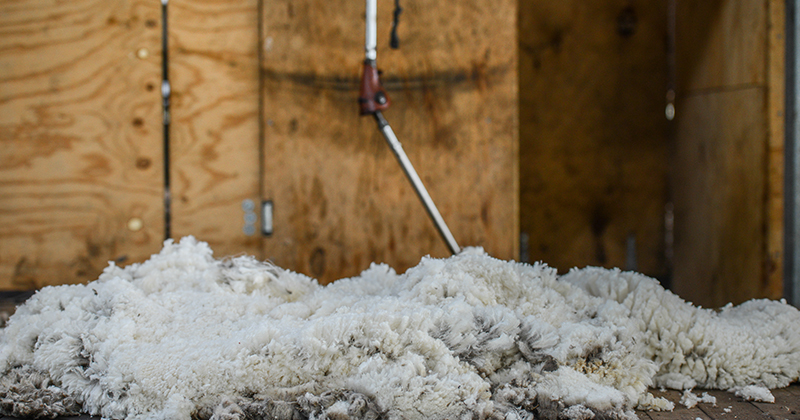 Since October, we've seen the market oscillate from gains to losses at the turn of each week. However, this week saw the second consecutive week of declines with both the eastern and western markets ending November back near the base levels found after the period of volatility during Winter.
The market has largely traded within a 100 cent comfort zone for the last two months and is currently closing in on the lower end of that range. The Eastern Market Indicator (EMI) lost 30 cents, on top of last week's 19 cent fall to close at 1,530 cents. The AU$ fell marginally by another 0.03 cents to US $0.676. In US terms this pushed the EMI down 22 cents to 1,035 cents.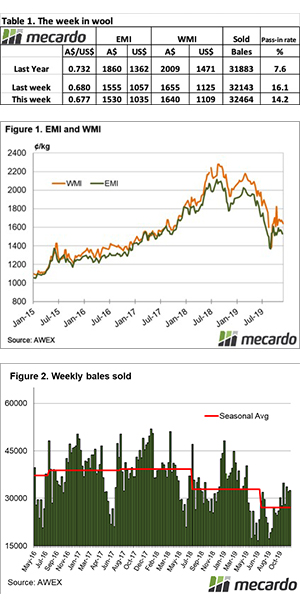 Fremantle fared the best of the three selling centres In the weakened market but didn't escape a fall of 15 cents in the Western Market Indicator to end the week at 1,640 cents.
High pass-in rates continued, with 14.2% of the national offering passed-in. This was a small decrease of 1.5% compared to last week's rate. Supply was slightly lower this week, with the national offering down by 471 bales to 37,827.  The number of bales sold was nearly unchanged at 32,464 for the week. This season's bale clearance continues to lag well behind 2018 at a difference of 100,058 bales. The average weekly bales volume is currently 5,266 behind last year.
The dollar value for the week was $54.03 million, with the average bale value sitting at $1,664, drifting $27 per bale below last week's average. The combined value so far this season is $895.47 million.
The crossbred sector edged lower again with 26 to 28 MPG's losing 30 to 45 cents. The broader microns received more support with just a 10 cent decline for 30-32 MPG's. The Merino Cardings Indicators managed to hold their ground for a second week in a row, remaining relatively unchanged.
The week ahead
Another large offering is on the roster for next week with 41,274 lined up across the three selling centres for sales on Wednesday and Thursday.
With just 3 more weeks of sale before the market closes for the Christmas recess, volumes are tipped to remain strong with 39,513 and 37,278 bales scheduled for the following weeks.