Wool market gets a toehold.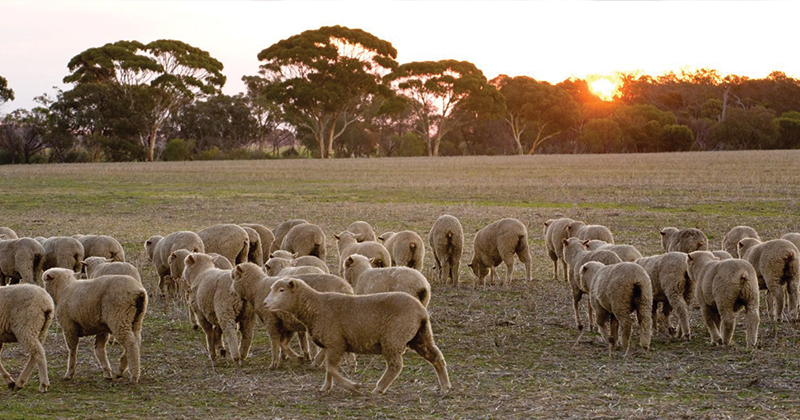 Despite this week's offering being the largest we have seen in a long time, the market managed to find a point to stabilise from the incessant falls. Sydney saw support for the broader microns, Melbourne found strength in the finer microns and mid fibres performed best in Fremantle, resulting in an overall steady week.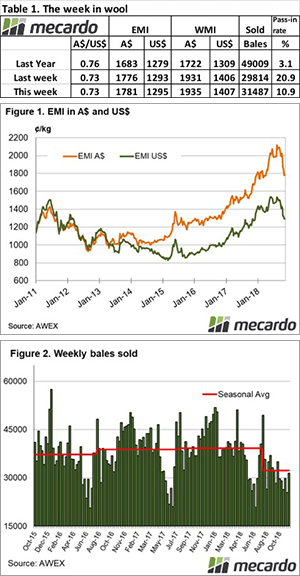 The Eastern Market Indicator (EMI) gained just 5 cents, ending the week at 1,781 cents. The Au$ lost some ground, closing at 0.727 US cents. That put the EMI in US$ terms to 1,295 cents, a gain of just 3 cents (Table 1).
In Fremantle, results were fairly mixed with the Western Market Indicator (WMI) rising just 4 cents to end the week at 1935 cents.
Compared to the original roster posted last week, only 35,326 of the 39,883 bales intended for sale this week actually came to the market. Growers appeared more confident in the markets level, passing in 10.9% of bales. This resulted in a clearance to the trade for the week of 31,487 bales, 6,032 fewer than last week (Figure 2). When we look back to the 2017 season, this week saw 36% less bales sold.
The dollar value for the week was $62.05 million, for a combined value of $1.28 billion so far this season.
In the auction weeks since the winter recess, 484,121 bales have been cleared to the trade, 126,565 fewer than the same period last year. The average shortfall cleared to the trade compared to the same time last year continues to grow and now sits at 8,437 bales per week fewer.
It was the crossbred and oddments sectors that provided the market with the real boost. Crossbreds saw gains of 5 to 25 cents, while the carding indicators rose between 70 and 120 cents across the three centres.
The week ahead
The roster for next week shows 35,334 bales on offer across the three selling centres on Wednesday and Thursday. The following weeks are looking at 37,540 and 36,778 bales.
Considering the market managed to cease it's decline even with one of the largest weekly offerings in recent times, there is optimism for the coming weeks.