Wool market just hanging on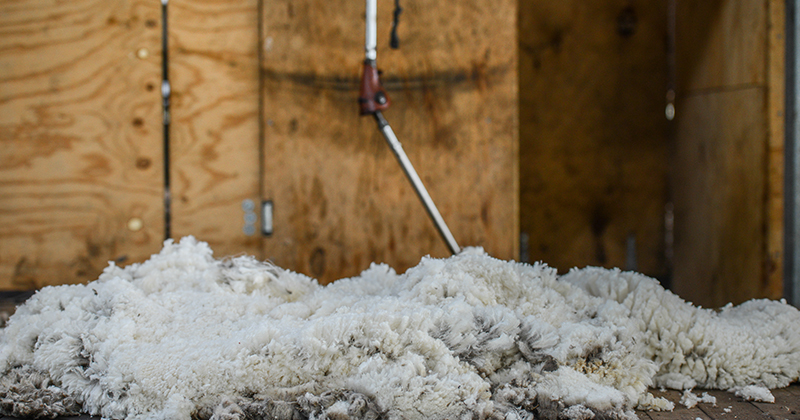 The wool market is navigating a succession of head winds at the moment. Coronavirus (now named Covid-19) and increased tariffs by the US on Chinese garments are two major negatives that have emerged in the past 6 months.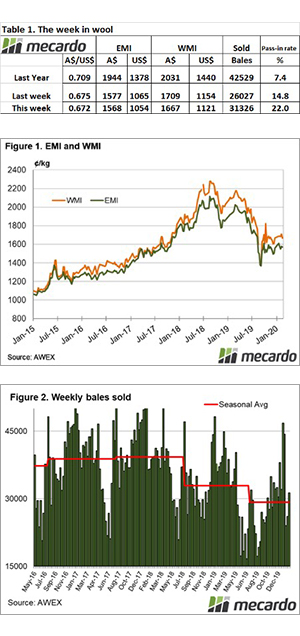 The explanation for the underpinning of the wool market at these levels is the supply situation; anything like the supply volume of past years and the market would have well and truly buckled under these pressures.
A reduced flock, growers willing to withhold or pass-in wool at auction and the reported low stock position at mills is the counter-weight keeping the market levels in relative equilibrium during these uncertain times.
The Eastern Market Indicator (EMI) eased slightly this week, giving up 9 cents closing at 1,568 cents. The AU$ was also slightly lower to close at .672 cents. In US terms, the EMI fell 11 cents to 1,054 cents.
The Melbourne market offered a designated Tasmanian sale, with the trade keenly bidding on the selection of very good style lots. Also of note in Melbourne & Sydney was the Crossbred section that improved 15 to 56 cents. The Fremantle catalogue being without these positives lost ground, the Western Market Indicator (WMI) dropping 42 cents to close at 1,667 cents.
Supply should remain tight into the rest of 2020. Wool producers are relatively "cashed-up" after 2 to 3 years of strong prices, and coupled with record lamb and mutton markets are emboldened to take a bullish approach to selling;  any perceived weakness is met with reduced clearance to processors. Producers are happy to ride the market and bet on a reduced future supply supporting prices in the future.
An increased national offering of 40,176 bales came forward, however, growers were reluctant sellers causing a pass-in rate of 22.0% nationally for the week. This resulted in 31,326 bales clearing to the trade. To date this season we have sold 138,724 fewer bales than last season (5,100 per sale).
The dollar value for the week was $53.39 million, for a combined value so far this season of $1.348 billion.
Crossbred types bucked the general market trend to post good gains, however, cardings were cheaper in all centres. Again poorly prepared Crossbred lots at times found little support.