Young cattle demand dries up, again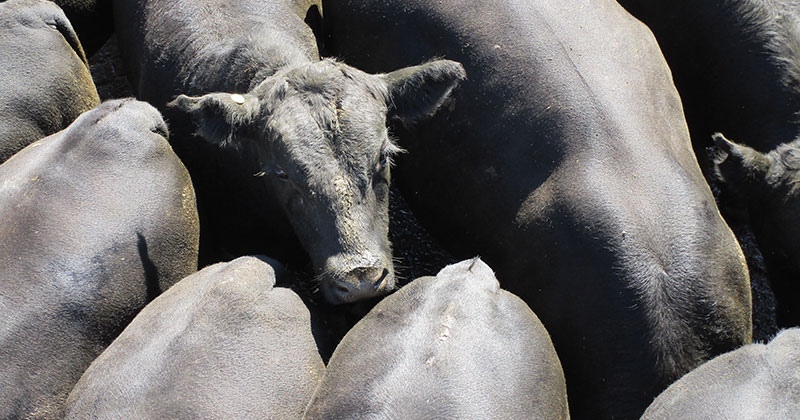 A fortnight ago we were talking about the Eastern Young Cattle Indicator (EYCI) yo yo going up.  This week the yo yo went down, with young cattle prices falling back towards April lows.  When looking for a culprit, it would seem a return to dry conditions might be to blame.
Figure 1 shows the EYCI only managed to spend one week above last year's levels, before tanking heavily this week.  The 8% drop took the EYCI back to 460¢/kg cwt.  The fall in young cattle prices was widespread, with the big movers being Inverell, Gunnedah and Scone, which all lost around 70¢.
The biggest yard in the EYCI, the Roma store sale, lost 25¢, falling to 481¢/kg cwt, so it maintains a premium to the EYCI itself.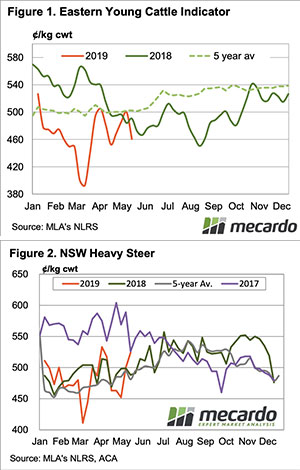 With yardings relatively steady for the week, it would seem demand was to blame for falling young cattle prices.  Restocker Steer Indicators saw the largest falls, while trade steers also lost some value.  Feeder cattle were largely steady, suggesting demand for heavier young cattle remains strong.
Heavy Steer demand was definitely not on the wane.  Figure 2 shows the NSW Heavy Steer Indicator rallied a further 37¢, moving to 526¢/kg cwt.  In Victoria and NSW Heavy Steers maintained their value, and are now back at close to record premiums to the EYCI.
The dry autumn in WA came to impact markets this week.  The Western Young Cattle Indicator fell 42¢ this week to 505¢/kg cwt, but it remains at a premium to its east coast counterpart.
 The Aussie dollar lost more ground this week, finishing close to 69 US¢, and pushing the 90CL Indicator back up to 689¢/kg swt.  The 90CL is now a full 100¢ above the same time last year.
What does it mean/next week?:
Key cattle areas aren't going to receive much rain this week.  There will be a bit in south west WA which might help there, and parts of SA will get some more, but it is unlikely to be enough to see young cattle prices rally.  It's hard to see finished cattle prices falling however, with supply unlikely to improve until the spring.