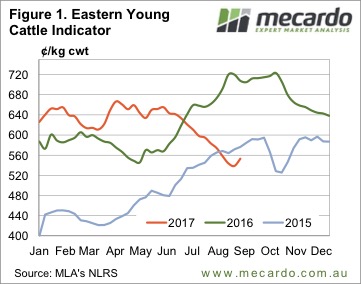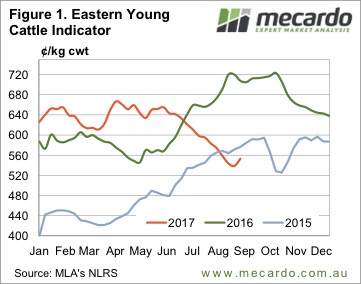 Young cattle prices gained some ground this week, for the first time in some while.  The Eastern Young Cattle Indicator (EYCI) has fallen for 12 weeks without any real break.  This week the break came, with the EYCI gaining 14¢ to move back to 553¢/kg cwt.  Is it a dead cat bounce or a sustainable rally?
Figure 1 shows the bounce in the EYCI, going back to the level of 3 weeks ago.  We can see in figure 2 that EYCI yardings have been low for a couple of weeks in a row, which seems to have been enough to see buyers competing a bit harder and pushing prices higher.
Young cattle weren't the only category to gain ground.  Heavy steers in Queensland and NSW rallied to 480 and 514¢/kg cwt respectively.  While Heavy Steer prices in Victoria didn't rise, they in fact fell 17¢, they remain at a premium to northern states, at 522¢/kg cwt.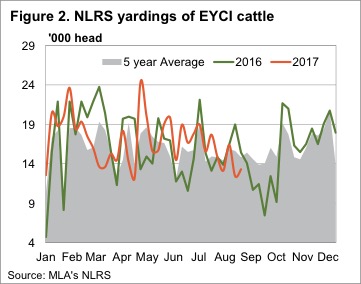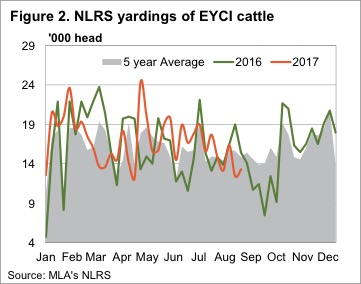 The 90CL Frozen Cow price has tracked sideways for the fourth week in a row and both the EYCI and Western Young Cattle Indicator (WYCI) have met it at around 555¢.  Figure 3 suggests it's hard to argue that falling beef export prices aren't driving the cattle price.
This time last year the 90CL was around 570¢, while the EYCI was at 707¢/kg cwt.  This is a good indication of the extraordinary restocker demand we saw last year, which this year has basically returned to normal, seeing cattle prices match the export price again.
The week ahead
It's going to rain in southern parts of Victoria and South Australia, but nothing to speak of in the north.  As such we're not going to see demand pick up for young cattle.  Additionally, the supply of grainfed keeps coming out of the record numbers of cattle on feed, and that's not going to change in a hurry either.  As long as the export price holds, there is a good chance prices have found a base for now, with the next test coming in October.