Cattle prices continued to slide this week, but managed to show some positive signs on Thursday. There were falls across the board on the east coast, as supply continued to overwhelm demand.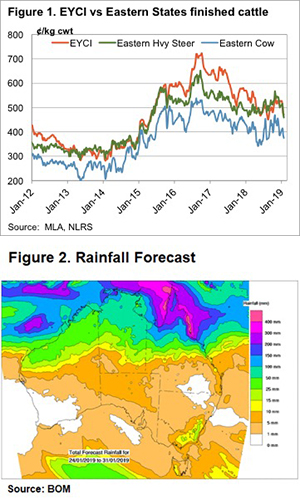 Even the Western Young Cattle Indicator (WYCI) has started to weaken, losing 11¢ this week to fall below 500¢ for just the second time in four years.  The WYCI of 496¢/kg cwt is the lowest price in four years.  It's not unusual for things to be dry in WA at this time of year, but demand for young cattle seems to struggling.  High grain prices will no doubt have something to do with it.
On the east coast the early year price decline continued for much of the week.  The Eastern Young Cattle Indicator (EYCI) hit a low of 468¢ on Tuesday, before regaining some ground later in the week to finish at 471.75¢/kg cwt.  Cattle prices are well short of this time last year, and pre-Christmas, but as figure 1 shows, they are very good compared to anything pre 2015.
The historically strong price may be why cattle continue to be drawn to the market.  If we write off this wet season in the north, cattle producers in northern NSW and Queensland will be waiting on unseasonal dry season rain for feed.  It could be some way off.
It's interesting to see that even finished cattle prices have tanked early in 2019. The eastern states Heavy Steer at 248¢/kg lwt is the lowest price since mid-2015.  Perhaps the strong supplies in feedlots is adding to supply pressure.
What does it mean/next week?:
Figure 2 shows there isn't much rain on the forecast for southern cattle areas over the next week.  The best we can expect for prices under this scenario is steady, although an argument can be made for tightening supply of finished cattle.
For southern buyers who are looking for cattle, the decline in prices should be seen as a buying opportunity.  We are two months from an early break, if you are an optimist, and the more cattle that are killed now, means less cattle later on.