The updated Mecardo processor margin model shows that meatworks profitability has continued to soften in recent months for beef processing, reducing by 48% from the peaks achieved in May 2019. However, despite the narrowing, margin processor's bottom line remains in good shape with the annual average margin sitting over five times higher than last season.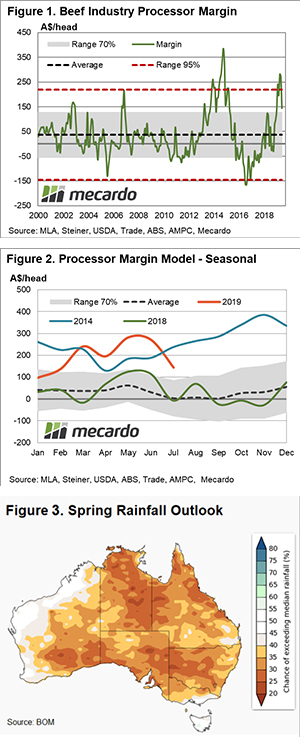 This processor margin model is designed to reflect the general trend in meatworks profitability and should be viewed as a reflection of an average industry participant. Due to the diversity in the scale of operations, internal processes, and supply chain differences across the red meat processing industry, individual meat works profitability will vary from the results demonstrated in this article. Furthermore, input data used in the model can be revised post reporting each month as updated data becomes available.
Figure 1 demonstrates the trend in the processor margin on a monthly basis since 2000. Earlier in the season, we saw margins extend outside the upper boundary of the extreme range beyond $220 per head of cattle processed. Ongoing dry conditions across NSW and southern Queensland have kept the cost of cattle entering meatworks relatively subdued while improving offshore beef prices have helped margins expand.
In the last few months, the processor margin has eased toward the top of the 70% range. Based on the historical monthly margin data, this range demonstrates where the margin has fluctuated for 70% of the time since 2000 and gives an indication of the "normal range" that could be expected to be earned by a processor per animal, which is between a $55 loss to a $130 profit.
A look at the seasonal trend in the processor margin shows that average monthly profit levels have eased toward $145 per beast processed in July after peaking at over $280 during May 2019. The annual average margin for 2019 sits at $195 profit, compared to just $36 per head for the 2018 season – Figure 2.
What does this mean?
A comparison to the 2014 season shows the impact a drier than normal spring and summer can have on processor margins as the annual average margin for the year reached $255.
During 2014 the processor margin continued to improve throughout the latter half of the season peaking at over $385 profit per head in November. The drier than average forecast leading into spring issued by the Bureau of Meteorology last week (Figure 3) should continue to support firm processor margins into the second half of this year.
Key points
Processor margins have continued to ease in recent months, falling from the May peak over $280 profit per head toward $145 in July.
For the 2019 season the annual average margin sits at $195, compared to a $36 profit earned during 2018.
During the last significant drought event in 2014 processor margins reached an annual average profit of $255 per animal processed.